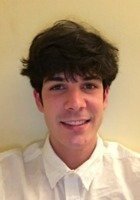 Pete
Certified Tutor
Educated through the Public School System in Elmhurst, IL and graduate from The University of Wisconsin in Madison, I understand the gap that can form between teachers and students first hand. Combining a relational teaching style, and a strong value of education, I believe that the unique needs of every student deserve consideration and that it is the role of the tutor to find the perfect way to teach. It is my personal wish that if a student has a special need, I can fulfill it through flexibility, kindness, and optimistic determination.
Hobbies
Running, Biking, Swimming, Reading, Writing, Origami Design and Folding, Personal Organization, Continuing Education, Socializing, Playing Guitar and Piano, Exploring New Parts of Chicago, Church, Spending Time with my Family
Tutoring Subjects
American Literature
Art
Business
CLEP Prep
CLEP College Composition
College English
College Level American Literature
College Math
Cryptography
Elementary School Math
Elementary School Reading
Elementary School Writing
High School Biology
High School Business
High School English
High School Level American Literature
High School Writing
HTML
Medieval Literature
Microsoft Office
Middle School Reading
Middle School Reading Comprehension
Middle School Writing
Other
Photography
Social Networking
Spelling Bee
Study Skills
Study Skills and Organization
Technology and Coding
World Literature
What is your teaching philosophy?
The strongest teachers I have had always taught more than just the material. Their presence brightened the classroom and united students on a personal level. I hope that as a teacher, I can do the same and more.
What might you do in a typical first session with a student?
In a first session with a student, I would promote a warm introductory period and informal educational review. We would begin by talking about our backgrounds, including family structures, educational levels, and social comfort. From there, we would discuss personal interests and hobbies - the things that inspire us outside of the classroom. Afterwards, we might take a short break for a snack or drink. In the latter half, we would shift focus to subject matter more generally so that I could gauge where the student is, both within their school system and in the subject in which they need tutoring.
How can you help a student become an independent learner?
To promote independent learning, I would encourage my students to form connections between what they learn in the classroom with the different environments of their lives. For instance, when studying middle school geometry, I would encourage a student to explore a creative hobby like origami, which promotes hands on learning in a personal environment. Or, when learning about the checks and balances of the American Government, I would ask them to note how individuals promote a positive group through checks and balances in sports or group oriented pursuits.
How would you help a student stay motivated?
I would help a student stay motivated by promoting a positive relationship and making our tutoring sessions a time for learning and self-expression/fun. Rather than just using the books, I would instill the subject matter through creative expression outside of the classroom and our tutoring sessions. For example, in writing, I might try to promote self expression in prose and poetry independent of the responsibilities that I expect regarding their academic curriculum. In this way, the student would learn to lead their own learning, which in turn would fuel their desire to do well in school.
If a student has difficulty learning a skill or concept, what would you do?
I would take a multi-instructional approach. Many students have entirely unique learning styles that do not intersect with traditional learning styles. By approaching education as I approach my own life, through pursuing many positive strategies all at once, I would find a solution to a particular learning difficulty faster and learn the particular learning style of the student more specifically. If a tutor seeks to promote only the way they have learned well, or only the way they know how to teach, many students with difficulties would not do as well as they might. Flexibility is an essential trait for a great tutor.
How do you help students who are struggling with reading comprehension?
I would help students struggling with reading comprehension by breaking things down into smaller steps. Instead of looking at a full novel or story, I would model reading as comprehension of a series of units that add up into bigger pictures until we reach the full model of what we are reading. Making the leap into the full model of what we are reading can be challenging, and breaking it down into steps can not only make the full model less intimidating, but also allow the student to focus their attention on what level they best understand. Once we find the step in the reading process the students struggle with, we can practice making the next step together.
What techniques would you use to be sure that a student understands the material?
To be sure that a student understands the material, I would evaluate their understanding by first promoting a comfortable environment in which the student can feel comfortable voicing any sticking points. From there, I would vary the material to see if there is any problem with extrapolating the learning processes and transferring them to different materials. For instance, in middle school math, if a student must factor one style of polynomial, I would first make sure that the student is comfortable making mistakes, which are a vital part of the learning processes. Once the student understands the initial form of polynomial, I would make an alteration to the problem form and to evaluate whether they can transfer rules like the "order of operations" over to the new problem.
How do you build a student's confidence in a subject?
Positive reinforcement. There is no limit to the height of a student's confidence when a tutor follows the right process for developing their education. Rather than using negative reinforcement, which penalizes a wrong answer and creates a fearful cycle of learning, I would frame mistakes as necessary steps in the process of success. And, when a student does well, I would promote their hard work, determination, and success. Building confidence is like building a snowball, once you get the initial confidence in place, it will continue to add up.
How do you evaluate a student's needs?
I would evaluate a student's needs through promoting a personal relationship. Rather than just teaching material from the book, I would relate the information through the relationship that we form. Once you get to know a student on a personal level, their needs present themselves. If a teacher builds walls between himself and his students he makes his job a lot harder because he blinds himself to the best route to teach his pupils.
What strategies have you found to be most successful when you start to work with a student?
When starting to work with a new student, it is important to learn as much as you can about them as a student. Each person has their own learning styles like auditory, visual, or touch. Each person has a unique need for learning effectively, and by finding and understanding that need, one's teaching becomes more fluid and effortless. Overall, adaptability is the most successful strategy when starting to work with a new student.
How would you help a student get excited/engaged with a subject that they are struggling in?
I would make succeeding into a fun game, which activates motivation in many students and kids intrinsically. Sometimes a student just needs a push to recognize that doing well can be a competitive endeavor to light a fire under their work ethic and determination. Sometimes it is the opposite, and a student needs to lessen the sense of competition and/or pressure about a subject, especially if they are struggling. In this case, I would frame developing as a game that one can play with him or herself. After all, if you compete with yourself and achieve goals you set for yourself, you are never a loser.
How do you adapt your tutoring to the student's needs?
To adapt tutoring to a student's needs, one must go into each session and new student as a blank slate. Without enforcing a set teaching style, you allow yourself to develop your own teaching around each new student. In this way, adapting is not so much as something that must be done, but is simply a fundamental aspect of the teaching strategy. Also, being observant and receptive to the type of person the student is and their unique personality constraints makes adapting quickly to their academic needs natural.
What types of materials do you typically use during a tutoring session?
The types of materials I use during a typical tutoring session varies per student, subject, and period of time in the academic year. I always bring my computer so that I can look things up and demonstrate how technology can be useful in the learning process. I always bring a pen and paper to reinforce how physically leaving a written mark improves memory retention. Other than that, I employ practice problems like vocabulary lists for reading/writing and problem sets for math. Creative projects are fun learning tools for both students and teachers, because they span a longer time and help long-term time management skills and work ethics to develop.