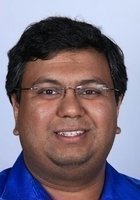 Charu
Certified Tutor
I have been tutoring students of all ages for the past 10 years. In that time, I have learned that all students have a passion for learning. However, they may not necessarily know that, or be able to express it in the 'normal' method of education.
My goal has always been to encourage this passion. To that end, I work with my student to find the teaching method that works best for them, whether it is lecturing, working by example, or simply drawing out the concepts. I also personalize my lessons to the student's interest, so that they stay engaged, and are able to remember the lesson better.
As I stated earlier, I have been tutoring for the last 10 years. I have experience with students from the age of 6, up through college age students. My main specialties are math and science, at all levels with some experience in grade school level English and writing.
Hobbies
enjoys piano and origami. watches science shows on discovery channel.
Tutoring Subjects
College Biology
College Physics
High School Biology
High School Physics
Other
Summer
What is your teaching philosophy?
I believe that all students want to learn. However, the preferred method of education differs from person to person. Thus, I try to make sure that I fit my teaching style to each student's learning style.
What might you do in a typical first session with a student?
I would go over what their goals are, what their preferred learning style is, what they are having issues with, and how I can help them achieve their goals.
How can you help a student become an independent learner?
I teach not only material, but also critical thinking skills and test-taking strategies. My goal is to ensure that my students are able to handle any academic situation that they find themselves in.
How would you help a student stay motivated?
I would set up a system of self-rewards, so that the student motivates themselves. I would also attempt to enlist the support of family and friends to maintain a healthy study environment.