Private In-Home and Online Calculus Tutoring in Seattle, WA
Receive personally tailored Calculus lessons from exceptional tutors in a one-on-one setting. We help you connect with in-home and online tutoring that offers flexible scheduling and your choice of locations.
100% Tutor Satisfaction Guarantee
At Varsity Tutors, we're committed to connecting you to top tutors capable of delivering an outstanding experience. That's why we provide a 100% tutor satisfaction guarantee.
How can a Calculus tutor help you?
The study of calculus is essentially the study of change. Through the many formulas and applications, you may use calculus to determine a number of things. The course focuses heavily on the rate of change and accumulation. Differential calculus is one of the branches; it focuses on the rate of change as it occurs within a limited amount of time. Integral calculus, on the other hand, allows you to accurately define the area under a curve. These are basic principles to learn, however they may be applied to a plethora of problems in chemistry, astronomy, biology, medicine, and more. Whether you are first entering your calculus course, or you are preparing for a more in-depth class in specialized calculus areas, you may gain an advantage with a personal instructor. We may help you find a professional tutor in Seattle, Washington, to try to help you build upon your strengths and eliminate your weaknesses in calculus.

All of the tutors whom our educational directors may connect you with in Seattle are skilled in teaching calculus. They are professionals who have excelled in their own calculus courses and many apply these concepts to their fields of work. Your tutor is carefully selected for you by the educational directors at Varsity Tutors. The directors base their decision on a number of factors, including your personal goals, learning style, curriculum, proficiency level, and more.
Private 1-on-1 Tutoring by top UW Honors Grads! 4.9/5.0 Satisfaction Rating*
Session Summaries by Calculus Tutors
"We began with a check of the student's position in the course, and I will send the teacher in update in this regard. Next we continued with the exam 2 review. We will likely need to put more time towards this at the next sessions. We concluded with some work on practice problems relating to optimization. The student will likely need additional practice in this area on Monday. "
"Today we distinguished the left, right, and mid-point rectangle methods for approximating the area under curves. We compared them to the integral method of determining the exact area under a curve and reviewed finding the anti-derivatives of various functions."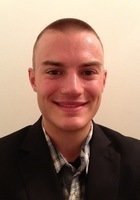 "We went over optimization concepts. Then we worked extensively on limits and continuity. We did a lot of practice problems together, which the student understood quickly, having a base on calculus concepts. With a quick explanation of the concepts in question, he was able to apply them to other problems. "