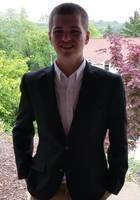 Alexander
Certified Tutor
I am studying to become an Aerospace Engineer. I previously attended The University of Pittsburgh for Mechanical Engineering. I will attend The University of Colorado at Boulder for aerospace this upcoming fall.

I am very knowledgeable in Math and Science. Particularly, I am fluent in Calculus, Physics, and Statics to name a few. I will be more than happy to tutor in any subject listed on my profile.

Other than academics, some of my hobbies include hockey, golf, music (particularly hip hop), and spending time at the observatory, to name a few. I am easily approachable, so feel free to contact me if you think I can assist you.
Hobbies
Golf, Astronomy, Hockey, Comedy, Hiking, Running
Tutoring Subjects
College Physics
Engineering
High School Physics
Mechanical Engineering
Statics and Dynamics
Thermodynamics