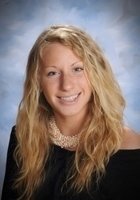 Michelle
Certified Tutor
I recently graduated with my Master's degree in Biomedical Engineering from Tulane University. Prior to this, I received my Bachelor of Science from Boston University in Biomedical Engineering with a minor in Marine Biology. As a graduate student, I worked in a tissue engineering lab with the goal of advancing knowledge of current cell and tissue-based clinical therapies!

I have a strong passion for learning about and teaching anything math or science related. These subjects are incredibly important in our everyday lives, and I can only hope to extend my passion and excitement to my students. I have a relaxed, hands-on teaching style with the belief that visual cues and plenty of practice involving real-life examples are both key to understanding a topic.

Focus areas I enjoy teaching include biology, most levels of math, earth science, and engineering courses. I love working with students of all ages, and have a strong desire to help students succeed. In my free time I love to spend time with my dog, run, go to the beach, and try new recipes!
Hobbies
Walking and playing with my dog, going to the gym, DIY crafts, cooking, going to the beach!
Tutoring Subjects
Adult ESL/ELL
Anatomy & Physiology
Biomedical Engineering
Cell Biology
Developmental Biology
Elementary School Math
Elementary School Science
High School Biology
Life Sciences
MATLAB
Other
Plant Biology
Technology and Coding