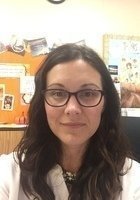 Erin
Certified Tutor
I have been an educator for 16 years. I have taught English, ESL, Creative Writing, have tutored for various standardize tests, and was an LD tutor for a year as well.

I am currently a middle school counselor. Although I love being a school counselor, I absolutely LOVE and miss teaching. I teach two summer school sessions each summer and teach Sunday school every other Sunday.

What I enjoy most about teaching is being part of the process of helping someone figure out how to complete a task that was previously thought impossible and watch as the student gains confidence and pride of what he/she now can do.

Hobbies
Reading, running, hiking
Tutoring Subjects
American Literature
College Application Essays
College English
College Level American Literature
Elementary School Reading
Elementary School Writing
High School English
High School Level American Literature
High School Writing
Middle School Reading
Middle School Reading Comprehension
Middle School Writing
Other
What might you do in a typical first session with a student?
I would ask questions to know the student's interests, and allow the student to get to know me a bit as well. I would ask the student specifically what he/she would like to work on, and then give a short assessment to attain information as to where the student is with knowledge and/or ability with that specific skill.
How can you help a student become an independent learner?
I can help my student become an independent learner by modeling and scaffolding specific skills, and allow the student to practice with me and then practice independently as well, while giving very specific feedback about what the student is doing well on and what he/she needs to continue to improve.