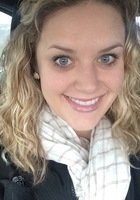 Chelsey
Certified Tutor
I hold a Bachelor's Degree in Special Education and a Master's of Science in Educational Leadership. Currently, I work as a high school Special Education teacher; however, I have experience with students grades Kindergarten through 12, ranging from gifted learners to severely disabled. I absolutely LOVE school and learning....which in turn makes me LOVE to teach! I believe every student can learn anything they set their mind to....we just don't all learn it in the same way! I pride myself on making meaningful connections and relationships with my students. I have a great sense of humor, and believe I am pretty darn good at making learning fun. I love math, writing, and reading, and feel very comfortable tutoring all levels of these subjects.

Personally, I love to spend time reading, binge watching shows on Netflix, cooking, and hanging out with my cat! I can't wait to meet you!
Hobbies
Yoga, reading, cooking, movies
Tutoring Subjects
10th Grade
10th Grade Math
11th Grade
11th Grade Reading
11th Grade Writing
12th Grade Reading
12th Grade Writing
1st Grade
1st Grade Math
1st Grade Reading
1st Grade Writing
2nd Grade
2nd Grade Math
2nd Grade Reading
2nd Grade Writing
3rd Grade
3rd Grade Math
3rd Grade Reading
3rd Grade Science
3rd Grade Writing
4th Grade
4th Grade Math
4th Grade Reading
4th Grade Science
4th Grade Writing
5th Grade
5th Grade Math
5th Grade Reading
5th Grade Science
5th Grade Writing
9th Grade
9th Grade Math
9th Grade Reading
9th Grade Writing
Adult Literacy
American Literature
CLEP Precalculus
College Level American Literature
College Math
Comparative Literature
Elementary Algebra
Elementary School
Elementary School Math
Elementary School Reading
Elementary School Science
Elementary School Writing
High School
High School English
High School Level American Literature
High School Writing
Homework Support
MAP Prep
Study Skills
Study Skills and Organization
What is your teaching philosophy?
I believe learning should be fun. We all learn better when we are in a positive frame of mind. I also believe in making concepts meaningful by applying them to real-life scenarios, and adapting things to individual learning styles and preferences.
What might you do in a typical first session with a student?
My main priority in the first session is to get to know the learner. The better I know their preferences, strengths, and needs, the better I am able to adapt my teaching style to ensure success!
How can you help a student become an independent learner?
I am a big believer in "teaching to fish!" I want to give learners tools to increase their independence and confidence.
How would you help a student stay motivated?
I try to keep students as engaged as possible. For me, this means using creative means of instruction that are naturally motivating to the learner. For some, this may mean utilizing technology, and for some it may mean using more hands-on activities. I tailor each tutoring session to the individual client and their unique interests and needs.
If a student has difficulty learning a skill or concept, what would you do?
If a student struggles with a concept, I try to determine why. Do they need a different method for learning? Do they need a different strategy to keep them more engaged? Because of my background in Special Education, I feel I have many different strategies and approaches to utilize if learners are struggling with a concept.
How do you help students who are struggling with reading comprehension?
Typically, if learners are struggling with comprehension, it is a result of poor fluency. If a learner doesn't need to concentrate so hard on decoding words, they will comprehend at a higher rate. Other times, students need strategies for comprehension. In these instances, instruction can be done to help students develop the skill.
What strategies have you found to be most successful when you start to work with a student?
My focus is always first on developing a relationship with a student. If the student trusts and respects me, and I am familiar with their learning style and interest, I am better able to develop effective lessons with them!
How would you help a student get excited/engaged with a subject that they are struggling in?
I think allowing the student to build some positive momentum and confidence in the subject is extremely motivating! Also, making sure to include high-interest materials, creative and fun activities, and integrating technology are all great ways to improve engagement.
What techniques would you use to be sure that a student understands the material?
Formative assessment as well as frequent informal assessment are critical in monitoring student progress. Having a student talk you through their thought process is a great way to assess mastery.
How do you build a student's confidence in a subject?
Giving a student materials with which they can be successful can help gain some positive momentum. Once an individual begins to experience some success, their confidence will eventually improve!
How do you evaluate a student's needs?
I evaluate a student's abilities through informal assessment, observation, and formal assessments when appropriate.
How do you adapt your tutoring to the student's needs?
My tutoring is completely based on student needs. Every learner has unique preferences, abilities, interests, and areas of need. My sessions are individualized based on a combination of these factors.
What types of materials do you typically use during a tutoring session?
I use whatever materials my client prefers and best meet their needs. This might mean their own materials, or some I can supplement with.