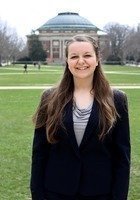 Aleeza
Certified Tutor
I have a Bachelor's degree from the University of Illinois at Urbana-Champaign in Integrative Biology, with a minor in Chemistry. I was accepted to Harvard Medical School but will be attending NYU Medical School in the fall on a full tuition scholarship I have worked as a tutor or teaching assistant of some kind for four of the last six years, most recently as a TA for organic chemistry 2. I am most excited about helping other students achieve their dreams of going to medical school by helping them study for the MCAT. Besides MCAT tutoring, my favorite subjects are chemistry, biology, and math which are all subjects I have tutored in before. I believe that every student can learn the material they hope to with the right guidance and effort. I hope that I can help students realize their full potential and grow in confidence as a learner. Outside of teaching, I like to perform in musicals, most recently I have been in local productions of Mamma Mia and Footloose, as well spend time with friends.
Test Scores
ACT Composite: 36
ACT English: 35
ACT Math: 36
ACT Reading: 35
ACT Science: 36
MCAT: 524
AP Calculus AB: 5
AP French: 4
AP English Language: 5
SAT Mathematics Level 2: 790
AP Psychology: 4
SAT Subject Test in Biology E/M: 720
Hobbies
Musical Theater! Research!