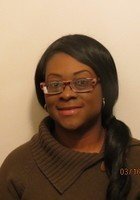 Mwuese
Certified Tutor
I earned a Master's of Science degree in Education from CUNY, City College of New York.
I have extensive teaching and tutoring experience as a former New York City Teaching Fellow, where I worked as a Special Educator for grades 1 - 5 in the NYCDOE.

After graduation, I tutored for Club Z for grades 5 - 7 in ELA, Writing and Math, before accepting a position as the program chair at Globe Institute of Technology's Associate degree program in Fashion Merchandising and Marketing Management. I am currently a Substitute Teacher mainly in secondary
school settings for a wide variety of subjects (ranging from Robotics to Art).

I really enjoy tutoring English Language Arts, Math and Science because students are typically most challenged by these subjects.
My tutoring style is differentiated and aligned with the students learning style and interests. In my pedagogical experience, I have found project-based teaching methodologies to be most effective.

I believe that these methods are successful with students because it customizes instruction. Once students can directly filter instruction through their own ambition, application follows and skills are developed as the final result. Student inspiration is the key to engagement and creates the bridge between concept to application in the academic process.

My personal interests stem from my first career in the fashion industry. I enjoy studying textiles and exploring color through art, painting and design. These hobbies strongly indicate my own learning style, as a visual learner. Research shows that most learners are visual as well so I always make visual references available, to reinforce the materials that I share. It is a highly effective strategy and my not so secret weapon. I look forward to working with students and supporting their learning. I truly believe that education is a key that unlocks dreams!
Hobbies
Drawing, architecture, painting, art, fashion, design and travel
Tutoring Subjects
College English
Elementary School
Elementary School Math
Elementary School Reading
Elementary School Science
Elementary School Writing
High School English
High School Writing
Other