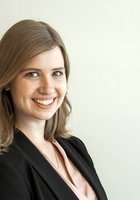 Lyndsey
Certified Tutor
I believe that if a student works hard and is presented the material in a way that best suits his or her learning style, anyone can understand and appreciate science.
I have a Bachelor's in Biochemistry and Microbiology from Miami University and have been tutoring for four years.
I often tutor in chemistry, biology, biochemistry, and other science courses. I like to find great additional resources online, such as practice problems or informational videos to supplement learning. I often make up silly analogies for difficult scientific concepts to make my students laugh, but also remember the material.
My teaching approach is usually to guide students towards understanding the material, rather than just giving them the facts. I utilize open ended questions and often ask students to explain how we solved a particular problem. I have found that students learn better by being actively involved in seeking the answers, rather than just listening to the information I give them.
My ultimate goal is to help students understand the material better and gain an appreciation for the subject. I have such a passion for science, and my enthusiasm is often obvious when I tutor. I hope to instill this same enthusiasm for science in each of my students.
Education & Certification
Undergraduate Degree: Miami University - Bachelor in Arts, Biochemistry
Test Scores
ACT Composite: 34
ACT English: 35
ACT Math: 31
ACT Reading: 35
ACT Science: 35
Biological and Biochemical Foundations of Living Systems: 129
Psychological, Social, and Biological Foundations of Behavior: 129
Chemical and Physical Foundations of Biological Systems: 130
Critical Analysis and Reasoning Skills: 130
Hobbies
Reading, hiking, skiing, swimming