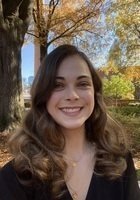 Bailee
Certified Tutor
I received a Bachelor of Science in Literature, Media, and Communications from Georgia Tech. My area of concentration was in media and communications. I have experience in numerous writing forms, including journalistic and technical writing. During my college career, I worked as a Peer Tutor at the University of West Georgia. In my experience, learning is a collaborative effort and can be achieved from many directions. In my tutoring, I try to align each student's academic goals with the material they are mastering. I have a passion for academic writing. I am a firm believer that strengthening one's writing skills is one of the foundations of academic success.

I tutor up to college-level English, reading, writing, and social studies; as well as offer support for the college application process.
Hobbies
In my spare time, I love to read and write, and I am a particular fan of literary and historical fiction. I also like to paint, and I am always looking to challenge my artistic abilities.
Tutoring Subjects
Admissions
College Application Essays
College English
College Level American History
Elementary School English
Elementary School Reading
High School English
Middle School English
Middle School Reading
Middle School Writing
Other