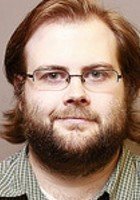 Nelson
Certified Tutor
I am a student of both the Humanities and Natural Sciences. My B.A. is in Historical Studies and my focus was in the history of science, and medicine. As an undergraduate I received grant funding for my ongoing project, 'Historical Perspectives on Alternative Health.' I am pursuing a MA in History while finishing up prerequisites for a graduate degree related to pathology. In addition to historical studies related to science and medicine I am associated with the Center for Values in Medicine, Science,and Technology at UTD. This has provided me with exposure to ethical components of the sciences that do not receive enough discussion or attention.

If I had to select an area of inquiry that is the most exciting it would be where the Humanities and Natural Sciences merge. I am thrilled to be constantly adding interdisciplinary approaches to my toolkit whether the discipline is history, literature, ethics, biology, pathology, technology, archaeology, or anthropology.

The last two semesters I have functioned in the role of a Teaching Assistant for an introduction course to pathophysiology at the University of Texas at Dallas. Through volunteer service with places such as the Richardson Boy's and Girl's club I have had exposure to homework assistance for many different age ranges. Depending on the subject there are several approaches to teaching, or tutoring, that I think are appropriate. Since each student is different it is important to find the best ways in which he/she can recall, understand, and relate various subject materials. Ultimately though, whether a student is an auditory, visual, kinetic, spacial, etc.. learner, I find the best approach is to help students learn how to identify a range of ways to ask questions regarding any problem, source, or material at hand and then proceed to find the solutions to those questions.

I am extremely interested in narratives. My hobbies are related to ways in which people tell and experience stories. This is usually in the form of books, movies, television shows, comic books, story telling, music, and video games. I have recently added radio dramas to this list of narratives I enjoy. Each medium for telling and experiencing stories offer its own unique way for the 'listener' to interact with the story either passively or quite actively in the case of comics and video/computer games.
Hobbies
My hobbies are related to ways in which people tell and experience stories. This is usually in the form of books, movies, television shows, comic books, story telling, music, and video games. I have recently added radio dramas to this list of narratives I
Tutoring Subjects
Anatomy & Physiology
AP US History
College Geography
College Level American History
College World History
High School Geography
High School Level American History
High School World History
Other
Social Sciences
Study Skills
Study Skills and Organization