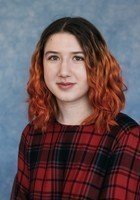 Shira
Certified Tutor
I am a professional life science researcher and graduate of Brandeis University, where I earned both my masters and bachelors in biochemistry. I'm passionate about science, discovery, and teaching, which is why I am pursuing both research and tutoring. I am also an avid reader, writer, and learner.

I have over 5 years of experience working with students from the junior high to collegiate level and would love to use my experience and expertise to help students master new concepts and skills. I would characterize my tutoring style as positive and persistent, but above all, I like to tailor my approach to best suit the needs and learning style of each individual student.

My specialties are test prep (AP/SAT/ACT/SSAT) and science subjects, including biology, chemistry, and physics. I am also experienced with tutoring US and world history, literature and composition, and general essay writing.

Looking forward to meeting new students!
Education & Certification
Undergraduate Degree: Brandeis University - Current Undergrad Student, Biochemistry
Test Scores
SAT Composite (1600 scale): 1550
SAT Verbal: 800
SAT Writing: 800
Hobbies
Reading, research, debate, painting, dance
Tutoring Subjects
AP English Language and Composition
AP English Literature and Composition
AP Physics C: Electricity and Magnetism
AP Physics C: Mechanics
AP US History
College Application Essays
College English
College Physics
High School Biology
High School English
High School Level American History
High School Physics
High School World History
High School Writing
HSPT Language Skills
HSPT Verbal
ISEE-Middle Level Writing
Life Sciences
MATLAB
Middle School English
Middle School Science
Middle School Writing
Neuroscience
Other
Productivity
Social Sciences
Study Skills
Study Skills and Organization
Technology and Coding