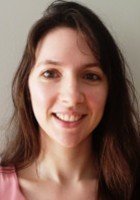 Elizabeth
Certified Tutor
My name is Elizabeth. I received a BA in French and a BMT of Music Therapy. I have been teaching private music lessons for 3+ years now and tutored various subjects in and around Atlanta since 2015. I have worked as a substitute teacher since 2011 at private schools in Fulton County, GA. Let me know if I can help you!
Hobbies
Reading. Writing. Cooking. Knitting. Singing. Playing violin, piano, guitar.
Tutoring Subjects
Accompaniment
Audition Prep
College English
Comparative Literature
Conversational French
Cooking
Elementary School
Elementary School English
Elementary School Math
Elementary School Reading
Elementary School Science
Elementary School Writing
Fiddle
French 1
High School English
Homework Support
Microsoft Excel
Microsoft Office
Middle School Reading
Music
Music Theory
Other
Piano
Singing
Study Skills
Study Skills and Organization
Technology and Coding
Violin
Voice
What is your teaching philosophy?
Every person learns differently. The key to being successful in any subject is to find what works for you and build on what you already know.
What might you do in a typical first session with a student?
I will ask the student where he/she perceives a need: what has worked, what does not work, or what is frustrating about the way he/she studies now. I want to know the student's methods and goals for studying.
How can you help a student become an independent learner?
Organization and recognition of patterns of success (x way worked really well for retention; z way was hard to stay focused; m way did not help me do well on the test) will set the student up for success long after their need for a tutor is done.
How would you help a student stay motivated?
Try different approaches to studying; praise & recognition when something is done well; reminding of student's self-identified goals.
If a student has difficulty learning a skill or concept, what would you do?
Approach the concept from another way, or use different analogies that resonate with the student. Ex: law of diminishing return in Economics explained with cookies-the 1st cookie tastes the most delicious, most amazing cookie ever. The second cookie eaten is perceived as very good. The third cookie is only fine. The fourth cookie is not really tasty. "Too much of a good thing".
How do you help students who are struggling with reading comprehension?
Take turns reading aloud. example: When I read, what do you understand? When you read, what do you understand? Break down the components of the passage and look for key words. Build slowly on the small points to achieve an understanding of the whole.
What strategies have you found to be most successful when you start to work with a student?
Repetition & taking the time to make sure the question is understood before attempting to solve it. Many times, too quickly read leaves part of the question unknown.
How would you help a student get excited/engaged with a subject that they are struggling in?
I would work to make connections in the difficult subject with something the student enjoys, or something they understand. For example, one who struggles with types of triangles in geometry but loves soccer: use physical body placement to create & identify different shapes (goal is one point of the triangle; student is another point; ball is the third point. What kind of triangle?
What techniques would you use to be sure that a student understands the material?
Written questions, in the general style of an exam. Writing it down on paper is another great way of "practice makes permanence." Oral questions: without it written down or worked out on paper, different parts of the brain are engaged. Demonstrate it: use a tangible aid (measuring cup, ruler, paperclip, paper cut outs, etc.) to show what the student practiced.
How do you build a student's confidence in a subject?
Repetition is important for being confident in knowing a particular subject, or a specific type of problem. Letting the student know I believe in them, that they can do it, is key. When in doubt, we might look back at some of the easier problems (2+2; Salem is the capital of Oregon; etc.) they have already mastered, to remind him or her of just how far/how much he/she has already accomplished.
How do you evaluate a student's needs?
I will ask his opinion of strengths/weaknesses. Using what he thinks in comparison with what tests show, we move from there. He might know the material and perform poorly on tests, which would alter the focus of our sessions to test strategies, not material.
How do you adapt your tutoring to the student's needs?
Each student's situation is going to be different, just as each person responds individually to learning styles. Written repetition might prove most effective; visual aids might offer the greatest help in understanding; verbal dialogues/conversations might resonate best. Taking time and trying is the only way to find the happy mix for the best result.
What types of materials do you typically use during a tutoring session?
Depending on the session: I would bring or send paper practice sheets with example & practice problems; a textbook, if I have one relevant. Any visual aids previously used or potentially beneficial, again depending on the session/subject discussed.