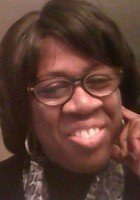 Susan
Certified Tutor
I personally believe that all students can learn and that all students have unique learning styles. I am committed to teaching strategies to enhance individual learning styles. I believe in developing a relationship with my students and setting high expectations. My teaching style is to be patient and allow students time to grasp the concept and to create a learning environment whereby students are free to learn and free to make mistakes. This environment will ultimately instill confidence and create independent learners. I obtained by undergraduate degree from Wayne State University in Business Administration and my graduate degree in Special Education Learning Disabilities from University of Detroit Mercy. I absolutely love teaching and making a difference in the lives of students. My favorite subjects are reading and writing. I have tutored students for the last 12 years. I am enthusiastically at your service.
Education & Certification
Undergraduate Degree: Wayne State University - Bachelors, Business Administration Marketing
Graduate Degree: University Detroit Mercy - Masters, Special Education
Hobbies
I love to go to movies and concerts! I also love spending time with my family. Currently, I am trying to read more.
Tutoring Subjects
1st Grade Reading
College English
Elementary School Math
Elementary School Reading
High School English
Other
What is your teaching philosophy?
I believe that all children can learn. It is just a question of how they learn. As an educator, I believe in finding out how that child learns and presenting information in that particular form.
What might you do in a typical first session with a student?
In a typical first session, it is imperative to get to know the student and allow the student to get to know me. I would use a game or activity as a warm up so we can both feel comfortable.
How can you help a student become an independent learner?
I can help a student become an independent learner by providing the student with proven strategies that work for them to practice.
How would you help a student stay motivated?
Often students need to feel confident about their knowledge level or ability to learn in a particular subject area. Build confidence. Teach in small chunks.
If a student has difficulty learning a skill or concept, what would you do?
Break it down into chewable chunks. Try different ways to present the concept such as concept maps, flow charts, visuals...
How do you help students who are struggling with reading comprehension?
Various questioning strategies, summarizing, characterization, helping to identify story parts, creating visuals, etc.
What strategies have you found to be most successful when you start to work with a student?
Most students are visual learners. Strategies that break learning down into bite size pieces work.
How would you help a student get excited/engaged with a subject that they are struggling in?
Small victories...small successes...students need to build their confidence.
What techniques would you use to be sure that a student understands the material?
If the student can paraphrase the material in their own words, then they have demonstrated knowledge of the material.
How do you build a student's confidence in a subject?
By helping them to get it. Helping them to tackle the big idea, one small idea at a time.
How do you evaluate a student's needs?
Based upon performance on pre-test and assignments.
How do you adapt your tutoring to the student's needs?
By first finding out what the student's needs are, then providing instruction that supports that students learning needs.
What types of materials do you typically use during a tutoring session?
It depends on the subject. I use a lot of graphic organizers.