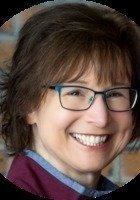 Ann
Certified Tutor
I try to present material in a way that is relevant to the student, particularly that student who doesn't have a strong background in the subject. I have been tutoring and mentoring for many years, and find that my own understanding of a subject is improved with each person I that I teach.

I hold a BS in Accounting from the University at Buffalo (SUNY), an MBA from the University of Minnesota, am a Chartered Financial Analyst (CFA) and have passed the CPA exam.
Hobbies
Education, Travel, Performing Arts (particularly Music), reading, and family.
Tutoring Subjects
Business
Business Enterprise
Business Writing
CFA
CFA - Chartered Financial Analyst - Level 1
CFA - Chartered Financial Analyst - Level 2
CFA - Chartered Financial Analyst - Level 3
College Accounting
Cost Accounting
Financial Accounting
High School Accounting
High School Business
Management
Professional Certifications