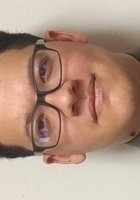 Brian
Certified Tutor
I am a graduate of the University of Wisconsin-Milwaukee. I received my Bachelor of Science in Applied Computing with a focus on Business Communication. While I was a student a tutored and taught PreK to 12 students for 3 years and adults for 2 years. I enjoy tutoring a broad range of subjects, but I am most passionate about technology-related subjects like programming. Technology is everywhere in our daily lives so having a foundation in programming, for example, sets up your plans for success regardless of your chosen career path. I have a hybrid teaching style in which I am both a demonstrator and a facilitator. I devote time during a lesson to try to understand what works for the group or individual and modify my strategy accordingly.
Test Scores
SAT Composite (1600 scale): 1300
SAT Math: 620
SAT Verbal: 680
Hobbies
I enjoy reading, video games and meeting new people from different cultures.