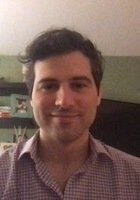 Brian
Certified Tutor
I'm a law student and long time tutor who's just made the move to Varsity. I've been tutoring for about eight years now, since I first started working with a friend of a friend's child on his SATs. I graduated from Brooklyn College with a degree in economics, and I'm at Hofstra Law School.

I tutor the SATs, ACTs, LSAT, GRE, basically all high school subjects, and a bevy of college ones, including history, psychology, economics, law, and writing. That's not because I'm an expert in everything - it's because the only thing I enjoy more than learning is helping someone else learn. A good tutor doesn't just explain the subject to you - they explain what's cool about it, how it applies to your life, and why you want to learn it. If I have to brush up on my AP Chemistry as an excuse to explain why dimensional analysis is actually the most useful math you'll ever learn, I find it thrilling, not a chore.

That's really my whole paradigm, as a tutor. Every subject has a relation to both everyday life, and to the coolest parts of the collective achievements of humanity. Learning not just what Pi is, but what it means, is treading the same ground as the people who built the pyramids.

We lose that joy - the enrichment granted by greater understanding - too often in sterile and boring classrooms. My goal is to help students attain mastery by providing the context and tools that let them have "Eureka!" moments.

Learning is fun, and tutoring is more than just being a living wikipedia article. It's giving life to the dry and soulless problem set, making fun of the trap answers on the LSAT, and linking history to its greatest stories. I don't need gimmicks and games to make that happen. I just find where a student and I can connect over the material, how they learn, and what they're having trouble with.

I won't guarantee anyone a score on a test or promise that everyone can get an A in every subject. But I do promise not to waste anyone's time or money. Every session, my students will learn new facts, new techniques, or new ways to understand some boring idea. That's not because I'm the smartest guy in the room: it's because I simply love seeing people learn.
Test Scores
SAT Composite (1600 scale): 1570
SAT Math: 780
SAT Verbal: 800
SAT Writing: 740
LSAT: 176
Hobbies
Reading and listening to history and fantasy, NBA analytics nerdery, grand strategy games, chasing the dog around, cooking (mediocre-ly).
Tutoring Subjects
ACT 4-Week Prep Class Prep
ACT 8-Week Prep Class Prep
ACT and SAT All-In-One Classes Prep
AP Comparative Government and Politics
Business
College Economics
College English
College Government
College Level American History
College World History
Econometrics
High School English
High School Government
High School Level American History
High School World History
LSAT 10-Week Prep Class
LSAT 5-Week Prep Class Prep
Macroeconomics
PSAT 8-Week Prep Class
SAT 4-Week Prep Class Prep
SAT 8-Week Prep Class Prep
SAT Essay
SAT Math Prep Course
SAT Reading Prep Course
SAT Subject Test in United States History
SAT Subject Test in World History
SAT Subject Tests Prep
SAT Verbal