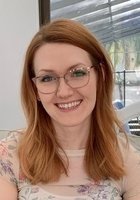 Isabelle
Certified Tutor
I am a Ph.D. candidate at Indiana University of Pennsylvania in English Compositon and Applied Linguistics. I have taught at the University of Central Florida (FYC classes), and I have tutored both college and K-12 students.

As both a teacher and a tutor, I believe strongly in helping students learn writing skills that they can transfer outside of the classroom. I also believe in helping students use the writing knowledge that they already have, as well as topics that interest them personally, in the classroom.
Education & Certification
Undergraduate Degree: University of Toronto - Bachelor in Arts, English
Graduate Degree: University of Central Florida - Master of Arts, Rhetoric and Composition
Hobbies
I love to cook! I run a food blog so I spend a lot of my time experimenting in the kitchen and writing about it. I also have a dog named Odin who often pops up in the background of video calls. He's half poodle and half frenchton, and full of energy!
Tutoring Subjects
American Literature
British Literature
CLEP Prep
CLEP College Composition
CLEP College Composition Modular
College English
College Level American Literature
Comparative Literature
Elementary School English
Elementary School Math
Expository Writing
Fiction Writing
High School English
High School Level American Literature
High School Writing
Late Elementary Reading Comprehension
Medieval Literature
Middle School English
Middle School Writing
Paleontology
Productivity
Reading Comprehension Class
Spelling, Grammar, and Writing Skills Class
Technology and Coding
Thesis Writing
WordPress
World Literature