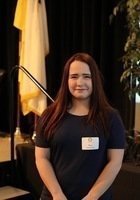 Tess
Certified Tutor
I am currently entering my senior year of undergraduate school as a Chemistry major. I was always ahead in math and science courses from a young age and completed calculus by the time I was a sophomore in high school. I have had five years of experience tutoring individuals in various science, math, and writing courses as well as for standardized testing. I believe it is in the student's interest that we make a personalized plan to tackling the tasks at hand in order to ensure that the student feels comfortable and confident in their work.
Education & Certification
Undergraduate Degree: Adrian College - Current Undergrad Student, Chemistry
Hobbies
I am currently the president of the Chemistry Club at my college. I also hold a position in Student Government. As I attend college I work for the Chemistry Department preparing solutions, grading exams, and setting up labs. I also tutor on campus through our Student Services office.
Tutoring Subjects
College Physics
Conversational Spanish
High School Chemistry
High School Physics
Spanish 1
Thermodynamics