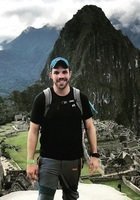 Matthew
Certified Tutor
I'm a financial professional working in private equity and have strong math, financial, accounting, economics, and science background. My undergrad was in engineering so I am well-versed in a wide variety of topics and look forward to helping you!
Education & Certification
Undergraduate Degree: Texas A M University-College Station - Bachelor of Science, Mechanical Engineering
Graduate Degree: The University of Texas at Austin - Masters in Business Administration, Business Administration and Management
Hobbies
I am the lead singer for a local cover band in Dallas and I also play piano and guitar. My professional aspirations are to complete the CFA program and to become a CFO of a company.
Tutoring Subjects
Business
CFA
College Accounting
College Economics
Financial Accounting
GMAT Analytical Writing Assessment
High School Business
High School Economics
IB Economics
Microsoft Excel
Microsoft Office
Other
Personal Finance
Professional Certifications
Technology and Coding