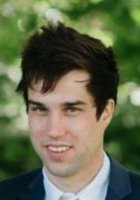 Michael
Certified Tutor
I am an experienced tutor and excellent communicator. I'm inventive and I specialize in problem solving at all levels of mathematics, physics, and some programming (C, C++, Python and Java). I have 4 years of experience in instructing and tutoring students to help them become successful in their respective courses.
Hobbies
Hardware/Software Design, Robotics, Microcontroller Applications, Semiconductors, and Tennis.
Tutoring Subjects
Academic Coaching
Algorithms
AP Computer Science A
AP Computer Science Principles
Applied Mathematics
Business
Business Calculus
C
C++
CLEP Prep
CLEP Calculus
CLEP Chemistry
CLEP College Algebra
CLEP College Mathematics
CLEP Precalculus
College Computer Science
College Math
College Physics
COMPASS Mathematics
Computational Problem Solving
Computer Programming
Discrete Math
Electrical and Computer Engineering
Electrical Engineering
Elementary School Math
Exam FM - Financial Mathematics
Exam P - Probability
FE Exam - Professional Licensed Engineer Fundamentals of Engineering Exam
GED Math
GED Science
GRE Subject Test in Physics
GRE Subject Tests
High School Computer Science
High School Economics
High School Physics
IB Computer Science
IB Economics
IB Further Mathematics
IB Mathematics: Analysis and Approaches
IB Mathematics: Applications and Interpretation
IB Physics
Java
Linux
Mac Basic Computer Skills
Mathematica
MATLAB
MCSD - Microsoft Certified Solutions Developer
MCSE - Microsoft Certified Solutions Expert
Mechanical Engineering
Microsoft Excel
Microsoft Office
MOS - Microsoft Office Specialist
OAT Physics
Oracle Certified Associate, Java SE 8 Programmer
Other
PC Basic Computer Skills
Probability
Professional Certifications
Quantitative Reasoning
Quantum Computing
SAT Subject Tests Prep
Scientific Programming
Software
Statics
Study Skills
Study Skills and Organization
Technical Writing
Technology and Coding
Visual Basic
Visual Basic .NET
Windows 10: Exam 70-698 - Installing and configuring Windows 10.