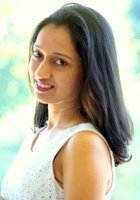 Rasika
Certified Tutor
A passionate language lover with an experience of Online Tutoring of German. Are you ready to learn German? I am here to help you learn grammar, sentence structure, and helpful phrases in a fun and relaxed setting.

I have successfully completed level B2 from Goethe-Institut (German cultural association founded by the Government of Germany). Currently, I am pursuing further education at Goethe-Institut, Boston. My educational background includes a Bachelor of Arts degree in Psychology and a Masters in Management Studies with a specialization in Human Resources. I have worked with a US-based e-learning company for three years as an HR professional.

I have been doing online tutoring for two years. What excites me about teaching is a fact that it is a partnership where teacher and student both will learn and grow together; it's an opportunity to have a positive impact on young lives, and of course, I would love to share my passion for German with language enthusiasts like me.

I believe that all students are different and have their own unique way and pace of learning. I try to use a variety of learning tools to keep a student interested and make the lecture fun. I highly encourage the active participation of a student in the learning process. In my spare time, I enjoy traveling, reading, hiking, blogging and indulge myself in a craft workshop. I look forward to hearing from you. Viel Spa!!!
Education & Certification
Undergraduate Degree: Mumbai University - Bachelor in Arts, Psychology
Graduate Degree: Mumbai University - Masters in Business Administration, Human Resources Management
Hobbies
Travelling, reading, hiking, blogging and indulge myself in a craft work.