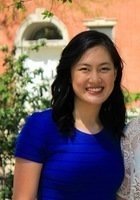 Amanda
Certified Tutor
I am currently a Full-time student at the Atlantic Acting School. Before I took the leap into performing arts, I was an auditor for 3 years with Grant Thornton where I received my ACA qualification (British equivalent of CPA). It's been a challenging but exciting transition.

I've moved around a lot in my life. I was born in the US, but my family moved to Beijing, China when I was 7. We moved back to the US when I was 14 to attend high school. For college, I graduated with Honours from the University of Edinburgh in Scotland with a Masters in Economics. I then worked in Hong Kong for 1 year at an Economic policy think tank, before moving back to England to work as an auditor.

In my spare time, I love to watch as much theatre and eat as much good food as I can afford. I am also an avid traveler, skier and photographer.

I look forward to helping my students reach their personal and academic goals!
Education & Certification
Undergraduate Degree: University of Edinburgh - Bachelor in Arts, Economics
Graduate Degree: Univeristy of Edinburgh - Master of Arts, Economics
Hobbies
Cooking, Traveling, Photography, Skiing, Theatre, Film/TV
Tutoring Subjects
Business
Conversational Mandarin
Elementary School Math
Managerial Accounting
Mandarin Chinese 1
Mandarin Chinese 3
Mandarin Chinese 4