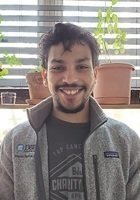 Mike Berrios
Certified Tutor
Hello Prospective Student,

Embarking on the journey of education can be an exciting and equally anxiety provoking endeavor. There are many exams to take, projects to complete, and deadlines to meet. This is in no way an easy journey but it is a worthwhile one. A journey that will see you grow into your true potential. Whenever you gain a new piece of understanding of the world around you, your perception of the world forever changes, you see things you could not see before. This is a magical process; my life is dedicated to facilitating this process for others.

I began my own journey of higher education with the Biological Sciences. During my third year of college I constantly found myself in a position where I was helping my peers understand the material and I realized that I thoroughly enjoyed doing this. I began working as a tutor at my college and then worked as a teaching assistant in the Gross Anatomy and Cell Biology Labs.

From there I went to medical school in Brooklyn, NY where I am currently a fourth year medical student in line to receive my MD in 2022. During medical school I continued developing my passion for teaching. Running tutoring sessions for my peers and underclassmen, organizing a medical education and exposure program for high school students known as HPREP, creating educational materials in the form of video demonstrations, and eventually being hired as an adjunct professor of Gross Anatomy for the Occupational Therapy program at Downstate Medical Center. I am currently in the medical education track at my school and in training to become a full-time faculty member after graduating.

My teaching style is focused on meeting the student where they are. I always begin assessing the current knowledge base and level of understanding so I can have a good idea of where to start. From there we will work together and I will adapt my teaching style according to how the student best assimilates knowledge. I take pride in being adaptable and flexible.

Thank you for taking the time to read my personal statement. I would be excited to obtain the opportunity to work with you.

Ash
Education & Certification
Undergraduate Degree: Mercy College - Bachelors, Biology, General
Test Scores
MCAT: 515
MCAT Biological Sciences: 128
MCAT Physical Sciences: 128
MCAT Verbal Reasoning: 128
Hobbies
My primary responsibilities lie with my family. I am a husband and a father. Secondary responsibilities are my duties as a medical student and responsibilities as a teacher. Outside of this I make time for other activities that further feed my soul. I have been an avid martial artist for the past six years. Training in Brazilian Jujitsu and Budo Taijutsu. I am also an avid camper and overall admirer of Nature. I like to spend time in the woods by myself studying the plants and animals in my surroundings. This has further developed into an appreciation for botany and mycology. On my free time I roam nature, identify plants or mushrooms and write down everything I learn about them. Last but certainly not least I am a spiritually oriented person. I am not a member of any particular religion; however, I do make time to acknowledge the Divinity that lies in all things.
What is your teaching philosophy?
I believe knowledge to be one of the most durable and valuable resources we can have as human beings, and because of this deep conviction, I pursue the education of each individual with passion. I realize that every time I help a student understand something about their world, their perspective of the universe they live in is never the same; this is a magical thing to me. My approach to teaching is not static nor formulated. I very much rely on my intuition and spend most of my introductory meetings with a student getting to know they're personal learning style. Once I get a good idea of how someone learns, I adapt my teaching style accordingly.