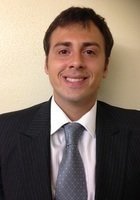 Joshua
Certified Tutor
I am looking to help you with your math and physics questions. I am a graduate student studying hurricane physics and enjoy using my deep understanding of material to help others. Hope to meet you soon!
Test Scores
SAT Math: 740
AP Chemistry: 5
AP Calculus BC: 5
AP Statistics: 4
AP Physics B: 5
AP Physics C: Mechanics: 5
Hobbies
Exercising (running, gym), Eating healthy, Watching football (Boomer Sooner!)
Tutoring Subjects
College Physics
High School Physics
MATLAB
Technology and Coding
What is your teaching philosophy?
I like to challenge students to work hard so they can achieve their dreams. Using a combination of lecturing and question asking, I like to find exactly where students are struggling so they can develop rounded skills to help them in every problem.
What might you do in a typical first session with a student?
I would like to introduce myself and go over some practice problems with students. I want the student to talk to me so I can see exactly where the confusion for these subjects come from. I also like to teach students to relate these theoretical problems to real world examples.
How can you help a student become an independent learner?
I want to teach a student how to question everything they hear. When a teacher tells you something, you should not take it for truth. Think about what they are saying and justify it to yourself. If it doesn't make sense, ask a question. It's the best way to learn.
How would you help a student stay motivated?
I always like to tell students to think about the big picture. Working hard now will help you solve many problems in life. It is one step closer to achieving your dreams.
If a student has difficulty learning a skill or concept, what would you do?
I will try to create as many real world examples as I can to show where the skill comes from and is needed. Sometimes thinking about a skill based on everyday experiences can be helpful in understanding it. Also, understanding the point in a problem where the student becomes confused is helpful for finding exactly what the student struggles with.
How do you help students who are struggling with reading comprehension?
This is a great question because I struggled with reading comprehension for many years. I would suggest to take it slow, talk out loud, make notes, take frequent breaks, and stop at the end of every page to think about what you read. There are many techniques that work, but the key is to keep trying them until you find the one that works for you (in my case, it was getting an accurate eyesight test).
What strategies have you found to be most successful when you start to work with a student?
I think consistent motivation can help students. I try to keep them from getting negative. Sometimes it is difficult to solve a problem and it takes a few different ways of looking at it in order to obtain an answer. Never give up! When the light bulb goes off, it is always a great feeling.
How would you help a student get excited/engaged with a subject that they are struggling in?
Relating subjects to real world situations is often a good way to excite students, but sometimes you just need to remind them that they need to do well in order to achieve their dreams.
What techniques would you use to be sure that a student understands the material?
I like to review material in each section. Whether it be by practice question or just showing how two topics relate, this can give students the bigger picture that makes sure they understand. When going through a specific problem, it is useful to ask questions to make sure they know why everything is done.
How do you build a student's confidence in a subject?
I like to congratulate students when they finally understand a topic. It is a great feeling when you are pushed and get to see results. Focus on the positives, keep focusing on the goal, and confidence will come naturally.
How do you evaluate a student's needs?
By asking a student questions when they are trying to solve a problem isolates the parts of the material that they are struggling with. Then, we can focus our efforts to get to the root of what is causing the confusion rather than moving on to more complicated topics.
How do you adapt your tutoring to the student's needs?
I like to be fully prepared for each lesson to answer questions from students. This way I can cater the lesson, in real time, to the needs of the student.
What types of materials do you typically use during a tutoring session?
I like to do a lot of writing and visuals with the students so they get to learn what thought processes go into solving a problem. I will also give student video resources to watch in their spare time to help further their knowledge.