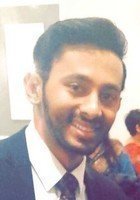 Ebin
Certified Tutor
I began my tutoring career around three years ago. I had a modest start at a local Kumon assisting kindergarteners to middle schoolers with Kumon specific math and reading assignments. Due to the nature of the job, I was pulled in every direction because of a new responsibility or urgent task. The job was more administrative and the students didn't receive much individual attention.

Eventually, I made a few connections and started tutoring privately. This was a whole new ball game in that I have never before interacted with someone for two hour stretches in an academic setting. In addition, my pupil was in high school which elevates the challenge and required a more nuanced approach to deal with the complexities that often accompanies adolescence. To my surprise, I loved it. Not only was this an opportunity to review all the material I had previously learned, tutoring allows me to elucidate the concepts in a manner tailored specific to the student which also improves my understanding of the topic and my method of communicating it. I worked closely with both the parent and the child to address their concerns to meet, and often, exceed their expectations.

However, I had to take a hiatus from tutoring to focus on school. During the previous semester, my roommate had introduced me to Varsity Tutors. I was curious but I had to wait until a point in my life where I could handle the commitment. Starting this new year, I will be working in Fermi National Laboratory in a Co-op position and this provides me the perfect opportunity to revitalize my tutoring career/hobby.

I have always been adamant on self-improvement and this is an avenue where I enjoy working and constantly improving. I see tutoring as an opportunity to engage avid knowledge seekers and motivated scholars and for me to learn as much from them as they do from me.

Test Scores
ACT Composite: 32
Hobbies
Drumming, Reading, Lifting
Tutoring Subjects
Adult Literacy
American Literature
C++
Chemical and Biomolecular Engineering
College Chemistry
College English
College Physics
Elementary School Math
Elementary School Reading
Elementary School Writing
High School Biology
High School English
High School Level American Literature
High School Physics
Middle School Science
Middle School Writing
Spelling Bee
Technology and Coding