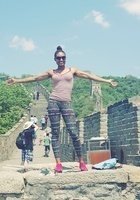 Destiny
Certified Tutor
I love educating people and helping others accomplish their educational goals! Education propels us forward in a positive and prolific direction. I have been tutoring and teaching music since January 2007, and I have enjoyed it since day one!

Currently I am:
1. A product manager
2. A published author
3. A personal fitness and nutrition trainer
4. A seasoned tutor since 2007
5. An entrepreneur and business woman since age 9
6. Music teacher (Piano & Guitar)
7. Product Manager, Product Owner, & Scrum Certified

Additional Subjects I teach:
1. Personal Budgeting
2. Women's Studies
3. Life Coaching
4. Weight Training
5. Amazon Self-Publishing
6. Minimalism/Decluttering
7. Goal Setting
8. Mock Interviews
9. Healthy Eating
10. Time Management
11. Career Sales Advice
12. College Application Coach
13. Professional Email Composition
14. Poetry
15. Financial/Retirement Planning
16. Organization Skills
17. Salary Proposals
18. Blogging
19. Product Management
20. Positive Psychology
21. Agile/Scrum Methodologies
22. Project Management
Education & Certification
Undergraduate Degree: University of Georgia - Bachelors, 1. Public Administration, Policy, & Management 2. Psychology 3. Gender & Women's Studies
Hobbies
Traveling, Reading, Writing, Bodybuilding, Food, Jurassic Park, Tutoring, Publishing, Editing, Blogging, Botany, Relaxing, Volunteering, TV Shows!
Tutoring Subjects
6th Grade AP Language Composition
A Level Prep
A Level Biology
A Level Business
A Level Chemistry
A Level Citizenship
A Level Computer Science/ICT
A Level Critical Thinking
A Level Design and Technology
A Level Digital Technology
A Level Economics
A Level English Language
A Level English Literature
A Level Environmental Studies
A Level Geography
A Level Geology
A Level Government and Politics
A Level History
A Level Law
A Level Mathematics
A Level Modern Languages
A Level Philosophy
A Level Physics
A Level Politics
A Level Psychology
A Level Quantitative Methods
A Level Religious Studies
A Level Sociology
A Level Sports Science
A Level Statistics
A Level Thinking Skills
Academic Coaching
Accompaniment
ACCUPLACER Prep
Apple Certified iOS Technician (ACiT) certification
Apple Certified Mac Technician (ACMT) certification
ACSM - American College of Sports Medicine
Administrative Law
Adult ESL/ELL
Adult Literacy
Advertising
African History
African-American History
Agricultural Science
American Council on Exercise (ACE)
American Literature
American Sign Language
Analytical Chemistry
Ancient and Medieval Heritage
AP Music Theory
AP Research
AP Seminar
Archaeology
ARM - Associate in Risk Management
ARM-E - Associate in Management-Enterprise Risk Management
ARM-P - Associate in Risk Management for Public Entities
Arrangement and Composition
Art
Audition Prep
Bass Guitar
British Literature
Business Analytics
Business Calculus
Business Enterprise
Business Ethics
Business Writing
California Proficiency Program (CPP) Prep
CAPM - Certified Associate in Project Management
Cardiology
CBEST - The California Basic Educational Skills Test
CDL - Commercial Driver's License
CDR - Commission on Dietetic Registration
CDR Exam - Cardiovascular Disease Recertification Exam
Cell Biology
Certified ScrumMaster
CGEIT - Certified in the Governance of Enterprise IT
CISM - Certified Information Security Manager
CISSP - Certified Information Systems Security Professional
Civics
Civil and Environmental Engineering
Civil Procedure
Classics
CLEP Prep
CLEP Biology
CLEP Chemistry
Clinical Psychiatry
Clinical Psychology
College Application Essays
College English
College Level American Literature
College Math
Comparative Literature
COMPASS Prep
Composition
Constitutional Law
Contemporary Architecture
Cooking
Cost Analysis
CPE - Certificate of Proficiency in English
Criminal Law
MCAT Critical Analysis and Reasoning Skills
CSS
Developmental Biology
Digital Media
Drawing
EAS - Educating All Students (NY Teaching exam)
Elementary School
Elementary School English
Elementary School Science
Emergency Medicine
Endocrinology
Entomology
Ethics
Euphonium
Evidence
Expository Writing
Family Law
Fiction Writing
FRT - Foundations of Reading Test
Gastroenterology
GCSE Prep
GCSE Biology
GCSE Business
GCSE Chemistry
GCSE Citizenship Studies
GCSE Combined Science
GCSE Computer Science
GCSE Design and Technology
GCSE Economics
GCSE English
GCSE English Language
GCSE English Literature
GCSE Geography
GCSE History
GCSE Mathematics
GCSE Psychology
GCSE Religious Studies
GCSE Sociology
GED Math
GED Reasoning Through Language Arts
GED Science
GED Social Studies
GMAT Analytical Writing Assessment
Google Cloud Certified - Professional Cloud Architect
Graphic Design
Guitar
Handwriting
High School Business
High School Economics
High School English
High School Level American Literature
High School Physics
High School Writing
Histology
History of Architecture
HTML
Human Development
Human Resources
IB
IB Biology
IB Business & Management
IB Classical Languages
IB Computer Science
IB Design Technology
IB Economics
IB Further Mathematics
IB Geography
IB Literature and Performance
IB Mathematics: Analysis and Approaches
IB Mathematics: Applications and Interpretation
IB Philosophy
IB Physics
IB Social and Cultural Anthropology
IB World Religions
International Business
Introduction to Fiction
Introduction to Poetry
International Sports Sciences Association
Information Technology Certified Professional™ (ITCP)
ITIL v3 certification
Journalism
K-11th Grade Standardized Tests Prep
Kinesiology
Latin America History
Law
Legal Research
Legal Writing
LMSW - Licensed Master Social Worker
Logic Pro Software
LSW - Licensed Social Worker
Mac Basic Computer Skills
Management
Marine Biology
Marketing
Martial Arts
MBLEX - Massage & Bodywork Licensing Examination
Medicine
Medieval Literature
Microsoft Excel
Microsoft Office
Middle School English
Middle School Reading Comprehension
Middle School Science
Middle School Writing
MOS - Microsoft Office Specialist
Music
Music Theory
NASM - National Academy of Sports Medicine
NCLEX
Neurobiology
Neuroscience
Nursing
OAT Reading Comprehension
OAT Survey of Natural Sciences
Other
Pathophysiology
PC Basic Computer Skills
PCAT Biology
PCAT Chemistry
PCAT Quantitative Ability
PCAT Verbal Ability
PCAT Writing
Personal Finance
Pharmacology
Philosophical Ethics
Photography
Photoshop
PHR - Professional in Human Resources
Piano
PMP
Portuguese
Printmaking
Pro Tools Software
Probability
Professional Certifications
Public Health
Rapping
Religion
Salesforce
SHRM-CP - Society for Human Resource Management- Certified Professional
SHRM-SCP - Society for Human Resource Management- Senior Certified Professional
Singing
Six Sigma
Social Sciences
Social Work
Songwriting
Sports, Exercise and Health Science
Study Skills
Study Skills and Organization
Suzuki Method
Technical Certifications
Technical Writing
Technology and Coding
Theology
Ukulele
Urban Design and Development
US Constitutional History
Vocal Training
Voice
Wireless Communications Engineering Technologies Certification
Windows 10: Exam 70-698 - Installing and configuring Windows 10.
World Civilization
World Literature
What is your teaching philosophy?
Keep it simple with repetition and regurgitation!
What might you do in a typical first session with a student?
Assess a student to see where they are at with some practice problems. Also be sure to keep it low stress and easy.
How can you help a student become an independent learner?
I would encourage a student to work out a problem on their own without my help.
How would you help a student stay motivated?
Help the student remember the end goal!
If a student has difficulty learning a skill or concept, what would you do?
I am all about "breaking down" concepts. I am also very interactive; hence, I encourage and have students read out loud and explain their rationale behind their answers.
How do you help students who are struggling with reading comprehension?
I have students consistently read out loud during our sessions, and I also have students read materials that are at a higher reading level than their current reading level.
What strategies have you found to be most successful when you start to work with a student?
Repetition and interactive sessions.
How would you help a student get excited/engaged with a subject that they are struggling in?
I encourage online sessions (which utilize technology). I find students to forget the length of their sessions or how much they hate a particular subject when technology is involved. I also keep session productive with little down time, which ultimately makes the session seem to go by faster.
What techniques would you use to be sure that a student understands the material?
I am all about evidence and proof. Prove to me that you understand a concept by breaking down each part of your answer; explain your answer to me like I do not understand the concept or am unfamiliar with the concept.
How do you build a student's confidence in a subject?
When students explain their answers to me -- and it is correct -- their confidence inevitably increases.
How do you evaluate a student's needs?
I get to know my students. What are your hobbies and interests? What subjects do you enjoy and dislike with a passion? What are your goals? What do you currently not understand at all in your classes right now? Tell me what you want, and I will help you achieve that.
How do you adapt your tutoring to the student's needs?
Tutoring and teaching is all about adaptation; it is our job to adapt to each student's particular needs. Essentially, this is what makes us successful teachers, which is what we all hope and strive to be.
What types of materials do you typically use during a tutoring session?
I am all about technology, Google, utilizing my own educational background, and also materials that the student provides. I have a lot of online resources that I have gathered throughout the years that allow for diversified sessions with new materials for every session.