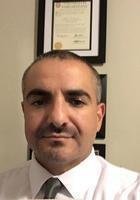 John
Certified Tutor
Tutors are more than expert academics; they are motivational coaches. The greatest obstacle preventing a student from learning is lack of belief in their own abilities. There is no knowledge outside the reach of anyone's understanding.
Hobbies
Research, Technology, Virtual Reality, music, Drums.
Tutoring Subjects
Business
Business Analytics
Business Ethics
Business Writing
College Accounting
College Economics
Cost Accounting
Econometrics
Elementary School Math
High School Accounting
High School Business
High School Economics
High School English
Managerial Accounting
Other
Percussion
Personal Finance
Study Skills
Study Skills and Organization
What is your teaching philosophy?
Patience, understanding, and kindness go a very long way with helping students build their confidence.
What might you do in a typical first session with a student?
Get an understanding for the student's objective and learning style.
How can you help a student become an independent learner?
By helping the student believe in themselves, first and foremost. Secondly, by encouraging the student to build up good study habits. Third, by showing the student available resources for future access.
How would you help a student stay motivated?
I would slow down and try another method of explaining.
How do you help students who are struggling with reading comprehension?
Slow down, break down a reading into smaller parts, and focus on understanding each smaller part before the dots can be connected towards the big picture.
What strategies have you found to be most successful when you start to work with a student?
One interesting strategy is to ask the student, "if you were tutoring me on this, how would you do it"? This will encourage the student to start thinking about their own communication style.
How would you help a student get excited/engaged with a subject that they are struggling in?
Look for ways to relate that concept to what is important to the student.
What techniques would you use to be sure that a student understands the material?
Continual feedback in a gentle manner. The most important thing is not to make any student feel that they can't do something. It is critical that they believe in themselves, and a tutor's job is to foster this.
How do you build a student's confidence in a subject?
It depends on the student, but one true and trusted way is through repetition and practice. Anyone can get good at anything with enough practice.
How do you evaluate a student's needs?
By simply asking the student, assigning a short quiz and assessment, and then explaining to the student what was wrong and why.
How do you adapt your tutoring to the student's needs?
By listening for verbal cues as well as physical signs that the student is not comprehending, is bored, or has divided attention. These will trigger me to try a different method that will better connect with the student.
What types of materials do you typically use during a tutoring session?
When using remote meeting platforms, I like to utilize the White Board, especially for visual learners. I also like to utilize relevant video snippets when accessible.