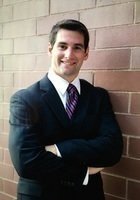 Eric
Certified Tutor
When I was in 8th grade, I was struggling with pre-algebra (I couldn't seem to wrap my head around distance/rate/time problems). I found myself loathing a class I had once loved. I started working with a tutor and going from barely getting by to being successful in that class was a very fulfilling feeling that I hope to continue to pass on to others.
Education & Certification
Undergraduate Degree: Northwestern University - Bachelors, Industrial Engineering and Economics
Graduate Degree: NYU Stern - Current Grad Student, Master of Business Administration
Test Scores
SAT Composite (1600 scale): 1480
SAT Math: 800
GMAT: 740
SAT Subject Test in Biology E/M: 700
PSAT Verbal: 66
PSAT Math: 71
PSAT Writing Skills: 64
Hobbies
Soccer, Hockey, Volleyball, Guitar
Tutoring Subjects
Business
College Economics
GMAT Integrated Reasoning
GMAT Verbal
High School Business
High School Economics
What is your teaching philosophy?
The best teachers are always trying to learn as well.
What might you do in a typical first session with a student?
Get to know his/her likes and dislikes, and identify where they are strong to build up confidence. Create a friendly and casual atmosphere.
How can you help a student become an independent learner?
Build confidence through repetition and positive reinforcement. The student must believe that they can succeed on their own.
How would you help a student stay motivated?
There are various ways to do this, depending on the student. By working with parents to develop a rewards system for some. For others, increased classroom success will be enough. Breaks within a session are also useful to help refocus.
If a student has difficulty learning a skill or concept, what would you do?
Break it down into more bite sized pieces. Or frame the problem in a real world setting that the student can relate to.
What techniques would you use to be sure that a student understands the material?
Give the student questions that test a familiar concept but in an unfamiliar manner. If the student can recognize the steps to the solution, then he/she understands the concept.
What types of materials do you typically use during a tutoring session?
Teaching kids to use the internet as a resource when they are stuck is very valuable. Something that I wish I had learned earlier is that the internet is full of supplemental material that can frame a problem in a new light.
What strategies have you found to be most successful when you start to work with a student?
Positive reinforcement. A student has fun when he/she gets the answer right. Celebrate little steps forward, even if it is just figuring out the first step in a problem.
How would you help a student get excited/engaged with a subject that they are struggling in?
Again, students have more fun when they get the right answer. Break a problem down into simple steps, and provide confidence boosting feedback upon each completed step.