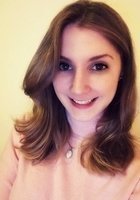 Katherine
Certified Tutor
During my years as a student, I had a hard time remembering concepts and terms. I had a near perfect attendance record, but still struggled with performing well on tests. I thought to myself, why was this happening?

Students have so much pressure to perform well on standardized tests. We cram with flashcards, pull all nighters, and even sacrifice our social time to prove to the world that we retained what we learned that year.

But are we *actually* learning? My goal as a tutor is to make your studies enjoyable. I love to use visual and real world examples to help you grasp difficult concepts. At the end of our sessions, it is my mission to make sure that you can not only solve sample problems, but actually understand your coursework on a deeper level!
Test Scores
ACT English: 34
ACT Math: 30
Hobbies
I have SO many! Painting, crocheting, skiing, watching movies, hiking, camping, singing, traveling...anything to create good memories!
Tutoring Subjects
CLEP Prep
CLEP Human Growth and Development
CLEP Humanities
CLEP Introduction to Educational Psychology
CLEP Introductory Psychology
CLEP Introductory Sociology
CLEP Natural Sciences
CLEP Social Sciences and History
Clinical Psychiatry
Clinical Psychology
College English
Developmental Biology
Executive Functioning
Flute
High School English
Homework Support
Human Development
Human Geography
Human Resources
IB Psychology
IB Social and Cultural Anthropology
IB Social and Cultural Anthropology HL
IB Social and Cultural Anthropology SL
Life Sciences
Molecular Biology
Other
Paleontology
Social Sciences
Social Work
Study Skills
Study Skills and Organization
Summer