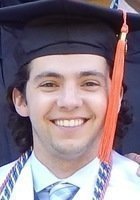 Steve
Certified Tutor
This year, I graduated from the University of Notre Dame with a bachelor???s degree in Chemical Engineering and a concentration in Biomolecular Engineering. I held a wide range of tutoring positions during my undergraduate experience including: an English Literacy tutor for grammar school students, an SAT Math instructor, and a STEM (Science, Technology, Engineering and Math) tutor for college students. I believe my strongest subject to tutor is Standardized Test Prep (SAT, ACT, and GRE). Performing well on these tests can truly bolster a student???s application for undergraduate or graduate education, and I truly enjoy helping him or her achieve their best. I am also passionate about tutoring Algebra, Geometry, Trigonometry, and Calculus. My teaching style is not set in stone; I understand that everyone learns differently and will try to find a learning method that will suit the student. Next year, I will begin my pursuit of a PhD in Biological Engineering, and I aspire to be an undergraduate professor and researcher. In my free time, I love to play guitar, play pickup basketball, and spend time at the beach.
Hobbies
Basketball, Baseball, Sailing, Guitar
If a student has difficulty learning a skill or concept, what would you do?
I have tutored students between the ages of 8 and 20. So, I have become accustomed to adapting my teaching style to best reach the student. I am confident that I would be able to find a new route to teach the skill or concept to the student.
What is your teaching philosophy?
My teaching philosophy is to show by example. I have seen that students retain information best when, under the guidance of the tutor, they work through problems covering the material. Over time, I gradually give the student less help until they are completely self-sufficient.
How would you help a student get excited/engaged with a subject that they are struggling in?
Most students who are struggling with a subject are disengaged because they are not doing well. By showing a student that they have the ability to grasp a certain topic and helping them achieve that knowledge, a natural excitement will foster from their successes. In addition, I will foster excitement by knowing the student and his or her passions. This way, I will be able to create problems that interest the student.