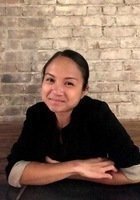 Carmela
Certified Tutor
I've been a data fanatic from an early age my high school Math League won state competitions (so you can say I'm a Mathlete!). I have also been known to associate street patterns to functions and derive equations to pass time. More importantly, I've worked as a math tutor while in high school and while working towards my BA in Mathematics at the College of Saint Elizabeth. I earned my Master in Public Administration (MPA) from New York University and have worked for the past 10 years in non-profits and city government. In addition, I taught statistics as an adjunct mathematics professor at the college level.

I find so much joy in helping students find their love for math. When I served as a professor, nearly all of my undergraduate students were taking the course to complete their minimum mathematics requirement. Most of them had a self-prescribed phobia of math. By the end of the course, they were able to calculate standard deviations, perform regressions and understand the meaning of correlation.

In addition, as a policy analyst and project manager, I understand the value of removing the stigma behind data and its usefulness for those who don't have the same love for numbers as I do. I've been able to perform complex data analysis and interpret the findings for colleagues and senior leadership to inform their policy decisions and improve program operations.

In my free time, I enjoy travel, running, yoga, and rock climbing.
Education & Certification
Undergraduate Degree: College of Saint Elizabeth - Bachelors, Mathematics & Individualized Major: Social Justice Studies
Graduate Degree: New York University - Masters, Public Administration/Policy Analysis
Hobbies
Traveling, running, yoga, rock climbing
What is your teaching philosophy?
I firmly believe that anyone and everyone can comprehend math, the only difference is that each person takes their own unique journey to get to that understanding. A passionate and patient teacher or tutor can help carve that path.
What might you do in a typical first session with a student?
What I love about tutoring is that it allows students to have their own personalized instruction time to supplement classroom activities. During the first session, I like to get to know each student.
How can you help a student become an independent learner?
One of my goals as a tutor is to instill a sense of confidence in students so that they realize they have the potential to learn and grow independently. By working through troublesome problems together while developing techniques to solve them, students can gain the necessary skills to deepen their knowledge on the subject.
How would you help a student stay motivated?
I believe in students and their ability to overcome their academic challenges. I can help them stay motivated by focusing on their strengths and celebrating their successes and dedication.
If a student has difficulty learning a skill or concept, what would you do?
When students are struggling with a particular skill, I like to break it down into smaller, more manageable and understandable steps. For example, an algebraic concept such as factoring quadratic equations is a series of steps involving multiplication, addition and subtraction. Building upon and reframing current skills can help students better understand new and challenging concepts.