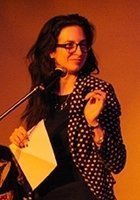 Andrea
Certified Tutor
Teaching is my passion; as a Sagittarius, I am on an endless quest to learn more and help others do the same. I have taught over 100 college and graduate students in my career, in courses ranging from writing seminar to research methods.

I'm currently faculty at The New School (Parsons School of Design, Eugene Lang College) and CUNY (City College, Queens College), and an Isador Lubin Fellow in the PhD Program at the Milano School of International Affairs, Management, and Urban Policy at The New School. I hold an MS in urban planning from Columbia University and a BA from Sarah Lawrence College. I am a proud native New Yorker and mildly patriotic first-generation American.
Test Scores
SAT Composite (1600 scale): 1410
SAT Verbal: 700
SAT Writing: 700
Hobbies
baking, yoga, running, snuggling my one-eyed cat, ferry boats
Tutoring Subjects
College English
Conversational Italian
Conversational Spanish
High School English
Other
Spanish 1
Summer
What is your teaching philosophy?
My teaching philosophy and approach is heavily informed by my personal background and professional experience. My students each bring their own ideas, constructions, priorities, and questions. In each of my classes, I spend the first weeks of the semester working with my students to cultivate a pedagogical environment that fosters differences and respectful disagreement: "Criticize ideas, not people." I emphasize that the diversity of our experiences make us who we are, and when we share them with each other, we become more thoughtful critics, scholars, and people. I evaluate my students based on their growth as thinkers and scholars over the time of the semester and their ability to constructively engage in spoken and written debate and discussion with peers and produced material that represent ideas different from their own, in addition to the quality of their written work and other assignments. I am committed to progressive pedagogy and seek to contribute to forward-thinking academic environments.
What might you do in a typical first session with a student?
working with my students to cultivate a pedagogical environment that fosters differences and respectful disagreement: "Criticize ideas, not people." I would definitely spend some time both discovering and exploring shared interests and passions, as well as celebrating our differences. And of course, tackling the material I am there to tutor!
How can you help a student become an independent learner?
By fostering and encouraging their own ideas and helping them to articulate their own brilliance, whether on paper on in speech, so that they can become more confident students.
How would you help a student stay motivated?
By reminding them (and myself) that failure is always a rung on the ladder to success. And that keeping an eye on the bigger picture (like graduating from high school) is the ultimate goal (rather than feeling amazing about every assignment).
If a student has difficulty learning a skill or concept, what would you do?
Retool my approach to that concept and explore what styles of learning suit them best -- visual vs auditory vs tactile, etc.
How do you help students who are struggling with reading comprehension?
Break down the passage into smaller parts and ask them to put the parts they understand into their own words. This helps fill in the blanks and can make difficult readings seem less overwhelming!
What strategies have you found to be most successful when you start to work with a student?
Giving them the time and space to feel like it's ok to make mistakes and ask questions. And having a sense of humor!
How would you help a student get excited/engaged with a subject that they are struggling in?
Find a way to connect it to something that they care about -- making writing an essay like composing a song, or reading a book like solving a puzzle.
What techniques would you use to be sure that a student understands the material?
Short quizzes during tutoring sessions, asking them to explain something in their own words, asking them to reinterpret the material by drawing a diagram or other visual tool.
How do you build a student's confidence in a subject?
By encouraging them to confront their dislike of it and rise above it.
How do you evaluate a student's needs?
Constantly checking in with them and setting clear benchmarks - both for the student's progress and for myself as their teacher / tutor.
How do you adapt your tutoring to the student's needs?
By being flexible and open-minded.
What types of materials do you typically use during a tutoring session?
Pen, pencil, paper, markers, laptop (if applicable), flashcards (if applicable).