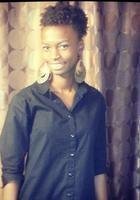 Tiffany
Certified Tutor
I am an 11 year Elementary School teacher with a Masters in both Reading K-12 and Teaching ESOL students. I have background in teaching a wide variety of learners and love to see students "soar" academically. I like to make learning meaningful as well as make connections in the lessons I teach so that they are most memorable for students. I truly enjoy hearing success stories from students that may have once struggled in some areas academically, but are now more aware of strategies that we may have uncovered together that makes them more successful.
Hobbies
Hobbies & interests include:- Reading- Attending Musicals/plays- Attending Concerts- Farming/gardening- Going to theme Parks (especially roller coasters)- Swimming (spending days at the beach)- Watching basketball games- Playing the Nintendo Wii- Watching movies/going to the movies- Listening to music- Shopping- Cooking
Tutoring Subjects
College English
College Geography
Comparative Literature
Elementary School Math
Elementary School Reading
High School English
High School Geography
Homework Support
Other
Study Skills
Study Skills and Organization
Summer
What is your teaching philosophy?
All students should receive the opportunity to receive a fair and quality education.