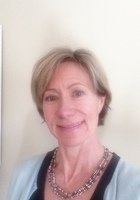 Toni
Certified Tutor
I have taught in private schools for 15 years, and enjoy working with students of all ages. My BA in Psychology is from University of California Irvine, and I earned my teacher certification through the American Montessori Society (AMS). I am comfortable with a variety of learning styles and enjoy using different approaches to help a student understand material. One of the most enjoyable things to me about teaching is the ability to give a student confidence in themselves by building upon their knowledge, providing them with problem solving skills, and ensuring their understanding of concepts.

Education is a strong passion of mine, but I also enjoy traveling, cooking, snorkeling, reading, riding bicycles and playing tennis. Until a few years ago we also rode our 3 quarter horses on trails through the forest and had many adventures! My husband and I live in a small town in Washington with our youngest daughter and our dog Felix. Our elder daughter lives in Portland, so we drive to visit her whenever the opportunity arises.
Tutoring Subjects
Elementary School Math
Other
Study Skills
Study Skills and Organization
Summer
What is your teaching philosophy?
My philosophy is quite simple: children learn at different rates and have varied abilities and interests, therefore, a teacher must begin at the child's current level and progress from there, building their skills and exciting their interests.
What might you do in a typical first session with a student?
In a first session we will get acquainted, hopefully this includes one or both parents with the student, then we will discuss their needs/concerns, areas of strength, and then learning goals. I also like to know the interests of each student and what motivates their learning.
How can you help a student become an independent learner?
A student can become an independent learner when they are taught necessary skills and given the confidence to believe in themselves. Focusing on what they are able to achieve, building upon their knowledge, and giving them an opportunity to learn from their mistakes is also a wonderful way to lead them toward independence.