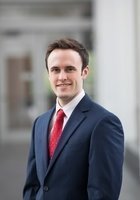 Brad
Certified Tutor
I enjoy helping students learn material in a way they can remember and apply in future coursework.
Hobbies
Wrestling, cabin, traveling, spending time with friends
Tutoring Subjects
Business
CFA
College Economics
College Math
Financial Accounting
High School Business
High School Economics
Other
Personal Finance
Professional Certifications
What is your teaching philosophy?
Perseverance trumps brilliance every time. Ask questions and work hard, and there's nothing you won't be able to understand.
What might you do in a typical first session with a student?
I would begin by asking a few questions to see where a student is. I would then provide a useful note sheet and go over a refresher of some of the concepts we would be focusing on.
How can you help a student become an independent learner?
I would talk about my learning habits with the student and refer them to some useful online/in person resources as well as ask questions to prompt independent thinking.
How would you help a student stay motivated?
I would relate the topics we cover to real life instances as well as providing a calm, distraction free atmosphere where students can focus and find it easier to stay motivated.
If a student has difficulty learning a skill or concept, what would you do?
I would go back to the fundamentals and ask smaller, easier questions to the student to get them thinking on the right track.
How do you help students who are struggling with reading comprehension?
I would walk through the problem slowly and point out the meaning of key words so as to heighten the student's understanding of the problem.
What strategies have you found to be most successful when you start to work with a student?
Getting to know how they learn and constructing programs tailored to their specific needs.
How would you help a student get excited/engaged with a subject that they are struggling in?
I would relate the topic to a student's interests/hobbies and draw real world connections to enhance their interest.
What techniques would you use to be sure that a student understands the material?
I would use study guides, note sheets, and flashcards with students (depending on the subject/content) to provide a more interactive method of learning.
How do you build a student's confidence in a subject?
I would start off by ensuring their knowledge base is solid and functional. I would then slowly build off of their base knowledge and use positive reinforcement to ensure students acquire the confidence they need to succeed.
How do you adapt your tutoring to the student's needs?
I employ different learning strategies for students based on their specific needs and what works best for them.