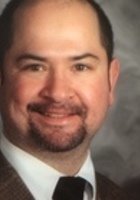 Benjamin
Certified Tutor
An educator that understands that each student learns differently, socializes differently, and learns at a different pace. A teacher who understands that the mission of educators and students is to collaboratively develop thoughts and minds that lead to healthy socialization, and academic success.
Hobbies
I enjoy watching sports, cooking, and spending time with my family.
Tutoring Subjects
College English
Elementary School Math
High School English
Other
PARCC Prep
What is your teaching philosophy?
To be a great educator, one must know how to tailor the curriculum to the individual student. It is the educator's job to identify why some students struggle, and to then implement effective strategies to get students over their learning obstacles.
What might you do in a typical first session with a student?
During first sessions, I will review diagnostic data that has been developed for the student. This includes test scores, strengths, weaknesses, and optimal instructional strategies.
How can you help a student become an independent learner?
In order to assist students in becoming independent learners, I conduct formative assessments to determine the typical problem solving strategies of students. This allows me to recommend problem-solving strategies for students to take when learning material in core content areas.
How would you help a student stay motivated?
Motivation is important in order to be successful in any of life's endeavors. To build and maintain motivation, I provide students with consistent feedback, and praise for effort and positive results.
If a student has difficulty learning a skill or concept, what would you do?
If a student has difficulty learning a skill or concept, I would conduct a series of assessments to determine why the learning barrier exists. This includes formative assessments that consist of observation and questioning activities to determine a student's rationale. From here, I can implement corrective problem solving strategies for the student to use when encountering the problematic content in the future.
How do you help students who are struggling with reading comprehension?
To assist students who are struggling with reading comprehension, the first step to intervention is to conduct a series of assessments. Through valid assessments, I can determine what the present levels of given readers. Some students may need reading intervention to start at a kindergarten level, and may need help with word attack skills, or sound recognition. Other students may struggle with other issues such as character analysis, determining main idea, or sequencing. From the data that I get from valid assessments, I can determine present levels of performance, and then begin a systematic reading intervention program.
What strategies have you found to be most successful when you start to work with a student?
I find that investigating present levels of performance, and determining strengths and weaknesses are critical to create student success. Once a baseline is determined I believe guided practice through difficult content is the most effective strategy to use to build success.
How would you help a student get excited/engaged with a subject that they are struggling in?
To get students excited/engaged on subjects they struggle in, I relate the subjects to real life examples. Once students understand how certain skills are used and are often necessary in our world, they develop the curiosity needed for motivation.
What techniques would you use to be sure that a student understands the material?
To ensure students understand material, I incorporate assessments that include questions with multiple levels of difficulty. If students can answer low and higher order questions on a given subject, I am confident that they understand the material.
How do you build a student's confidence in a subject?
To build a student's confidence in a subject, I use lessons that are sequenced based on core standards. As part of the sequence, students master initial, easier, portions of lesson and progress into more difficult portions of the lesson. As lessons develop, student confidence increases with each positive assessment result.
How do you evaluate a student's needs?
To determine a student's needs, I conduct interviews with the student's guardians, and also with the student. From this point, I review academic records and score reports in order to determine urgent needs of the student.
How do you adapt your tutoring to the student's needs?
My tutoring is tailored for the individual student. This includes implementing lessons and instructional strategies that are designed to meet the individual student's learning style. My tutoring is tailored as it involves modifying curriculum materials in a manner that maximizes the efficiency of student learning.
What types of materials do you typically use during a tutoring session?
Materials I typically use include mini-whiteboards, graphic organizers, appropriate technology, and relevant visual aids for individual students.