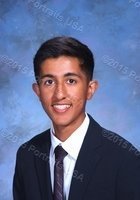 Karan
Certified Tutor
I'm a sophomore at Cornell University, and a recent graduate from Stuyvesant High School (a specialized high school in downtown Manhattan). I have much experience tutoring kids from ages 6 to 18 through the company Allen Mentoring in subjects such as physics, math, english, and history. I have scored a 34 on my ACT exam (out of 36). If you haven't found anyone already, I would be happy to be of assistance. Please let me know. I would be happy to answer any questions beforehand. Thank you!
Education & Certification
Undergraduate Degree: Cornell University - Current Undergrad, Applied Economics and Management
Test Scores
ACT Composite: 34
ACT English: 35
ACT Math: 36
ACT Reading: 31
ACT Science: 33
Hobbies
Watching Sports, Dancing, Eating New Food
What is your teaching philosophy?
My ultimate goal through tutoring is to have students become encouraged and motivated to learn. Tutoring through a positive attitude and proper guidance can improve scores and improve a lifestyle.
What might you do in a typical first session with a student?
I would talk to the parent and see what the student has an issue with. Next, I'd talk to the student and see where they need help. I would ask the student how they want to be helped and what method is best for them to understand the material; I would adjust to that work ethic. My goal is to create a positive relationship with both the student and the parent.