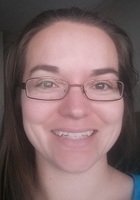 Desiree
Certified Tutor
I am a tutor with a variety of interests who can help with multiple subjects. I have a bachelor of science in psychology with a minor in teaching English as a second language, and I am pursuing a master in general addictions counseling. I have a love of learning, so if you have a question I don't know the answer to, we can figure it out together. This hunger for learning makes me passionate about helping students learn and understand when they are struggling. I feel like, as a tutor, it is my responsibility to figure out the best way to teach students, since everyone has a different learning style. If teaching something one way isn't understood, then I will continue trying different approaches until one makes sense. I especially like tutoring math, even though it has not been a career I have pursued, but I like to use my strengths in other subjects, like writing, too. I look forward to helping many students learn and exceed their expectations.
Hobbies
Reading, music, movies
Tutoring Subjects
College English
Elementary School Math
High School English
Homework Support
Other
What might you do in a typical first session with a student?
I would introduce myself and get to know the student a little better to find out the best way to help him/her learn.
How can you help a student become an independent learner?
Instead of showing students the answer, I would show them how to get to the answer and why each step is taken.
How would you help a student stay motivated?
Feedback and encouragement help students stay motivated. I would also do my best to make learning fun.
If a student has difficulty learning a skill or concept, what would you do?
I would try to explain the concept in a different way and have the student try it. People learn differently, and sometimes it takes a few tries to figure out how they learn best.
How do you help students who are struggling with reading comprehension?
To help with reading comprehension, I help students learn how to find the main idea of sections or paragraphs first by asking what that specific piece is talking about. Then we focus on fixing their understanding from there.
What strategies have you found to be most successful when you start to work with a student?
The most successful strategy is to figure out where the student is and start there. I do this by finding out what they already know and what they think the first step would be.
How would you help a student get excited/engaged with a subject that they are struggling in?
Positive feedback and encouragement are an important part of engaging students who are struggling. I would also try to make the subject more relevant to them and help them understand it better. It is hard to be engaged when it isn't making any sense.
What techniques would you use to be sure that a student understands the material?
To check for understanding, I would have the student explain the concept back to me or show me an example. If they are unsure of how to explain or do the example, then they do not have a full understanding yet.
How do you build a student's confidence in a subject?
Positive feedback and encouragement can help build confidence. It is also important to acknowledge the student's progress as they go. As the student starts to get more right, they need to see this progress to feel more confident.
How do you evaluate a student's needs?
I ask questions to clarify what their question really is and how much they already know. Just because they start out asking for help with writing a paper doesn't mean that they need help with the whole paper. Maybe they just need help organizing the outline.
How do you adapt your tutoring to the student's needs?
I try to get to know the student's learning style by talking to them and trying out different styles. It might take a few tries, but patience and creativity are important for adapting to the student.
What types of materials do you typically use during a tutoring session?
Depending on the subject, the materials could include paper and pencil or whiteboard, sample problems or questions, educational websites, or educational materials that can be supplied.
What is your teaching philosophy?
Every student is different and has a different style of learning. It is my responsibility to help the student learn and understand the subject.