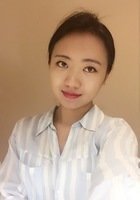 Angela
Certified Tutor
I believe that everyone can achieve academic successes under proper guidance. I'd like to be the light tower for my students on the endless sea of study. I want to help them to find their own ways to the right place. I will help my students to find their own way to solve problems on certain subject and master techniques of studying certain subjects.
Education & Certification
Undergraduate Degree: Wesleyan College - Bachelors, Theatre and Communication
Test Scores
SAT Composite (1600 scale): 1490
SAT Verbal: 750
SAT Writing: 750
Hobbies
theatre, dance, reading, writing
Tutoring Subjects
Conversational Mandarin
Mandarin Chinese 1
Mandarin Chinese 3
Mandarin Chinese 4
What is your teaching philosophy?
I believe that everyone can be good at school if she/he gets the right teacher.
What might you do in a typical first session with a student?
I would like to know my students better and build a good relationship with them.
How can you help a student become an independent learner?
I will encourage them to become an independent thinker through building up their confidence and helping them solve problems in their own way.
How would you help a student stay motivated?
I will help him/her to discover his/her potential and make him believe that he can make it.
If a student has difficulty learning a skill or concept, what would you do?
I will illustrate the skill or the concept in a way that he/she likes.
How do you help students who are struggling with reading comprehension?
I will visualize texts and make reading enjoyable in their way.
What strategies have you found to be most successful when you start to work with a student?
Encouraging. Confidence is always the most important thing in learning. If you believe that you can do it, then you will. I will always encourage my students like this.
How would you help a student get excited/engaged with a subject that they are struggling in?
I will relate the subjects to something that they are interested. Interest is always the best teacher.
What techniques would you use to be sure that a student understands the material?
I will ask questions about the material to make sure that a student fully understands it.
How do you build a student's confidence in a subject?
I will encourage and help them to solve the problems by themselves so that they can see how good they are.
How do you evaluate a student's needs?
I will ask him/her if he/she needs help or not. I will also look at their tests to see if they can master the skills in exams.
How do you adapt your tutoring to the student's needs?
I will build up personal relationships with my students and understand their needs by gaining their trust.
What types of materials do you typically use during a tutoring session?
I use textbooks, exam prep books, and fun internet resources to make my students interested.