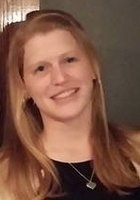 Samantha
Certified Tutor
I am a PhD student at Northeastern University getting a degree in population health. I graduated from George Washington University, with a master's in public health and did my undergraduate degree at the University of Richmond. I love to teach and hope to eventually teach at a university and do research.

I have always enjoyed helping others learned. When I was little, I used to make my sister play teacher with me (she was always the student, poor thing). Now I enjoy tutoring students of all ages in a variety of subjects. My favorite subject to tutor is math because, unlike English, the rules always stay the same. I also enjoy tutoring for both the ACTs and the SATs. It is great to see a student's scores improve as we work on practice tests and the different skills that they need.

In my free time I love to travel. In Oct. of 2014 I left the country for the first time to travel to Zambia, Africa to visit a friend living there. It was an incredible trip. We sat in the devil's pool at Victoria Falls (I recommend looking up a photo). We also went on a safari and had many other great adventures. Since then I have traveled to Italy (also wonderful) and hope to do some more international traveling soon.

I also enjoy working with my hands, crocheting, sewing, knitting, and especially cooking. I read when I have the time, and love to listen to audio books in the car.

Test Scores
ACT English: 32
Hobbies
Crochet, Knitting, Cooking, Hiking, Sewing, Reading, Movies
Tutoring Subjects
ACCUPLACER Arithmetic
ACT Aspire
Adult ESL/ELL
Adult Literacy
Elementary School
Elementary School Math
GED Math
Health Care Policy
Medicine
Other
Public Health
Study Skills
Study Skills and Organization
What is your teaching philosophy?
When I teach, I like to instill a sense of confidence in my students, especially when working on standardized tests such as the SAT and ACT. I often teach with the Socratic method, finding that having students answer questions and discussing the reason for the answers helps them remember how to find the answer better
What might you do in a typical first session with a student?
Typically in my first session with a student, we discuss the student's areas of difficulties along with why they believe they are having these problems. Then, we usually start doing some practice problems so I can see the student's process for answering questions.