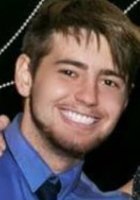 Brandon
Certified Tutor
I'm a 4th year at the University of Chicago, and I love teaching. I'm elated to help others learn and gain confidence in subjects that may not be their strong suit today. Also, I want to give students the tools to succeed in subjects outside of what we directly cover.
Education & Certification
Undergraduate Degree: University of Chicago - Bachelors, Public Policy, Psychology
Test Scores
ACT English: 33
Hobbies
Theatre, League of Legends, Pop Culture, Music
Tutoring Subjects
College English
High School English
Homework Support
Other
Social Sciences
Study Skills
Study Skills and Organization
Summer
What is your teaching philosophy?
When I teach someone something, I want them to know the material well enough that they feel comfortable teaching it to someone else.
What might you do in a typical first session with a student?
We would have a quick icebreaker. Then, we would map out where the student is at and where the student would like to be. After setting these goals, we would get started on the subject's material.
How can you help a student become an independent learner?
I can help a student become more of an independent learner by training them to apply problems we have worked through to similar problems that are foreign to them.
How would you help a student stay motivated?
I would help a student stay motivated by breaking down big goals into little goals and rewarding achievement.
If a student has difficulty learning a skill or concept, what would you do?
I try to reference a previous concept the student did understand and relate it to the new concept.
How do you help students who are struggling with reading comprehension?
I give them tools to identify the main points of the reading material rather than try to stuff the whole piece into their head.
What strategies have you found to be most successful when you start to work with a student?
I find that the best place to start is by finding common ground and setting goals of where they want the session to go.
How would you help a student get excited/engaged with a subject that they are struggling in?
I would try to make a game out of the experience or separate the subject out into smaller chunks.
What techniques would you use to be sure that a student understands the material?
I would quiz the student with material that was covered during the session, as well as previous sessions.
How do you build a student's confidence in a subject?
I highlight the progress they had made thus far. Or, I give them a quiz on material I know they understand to boost confidence before hitting new material.
How do you evaluate a student's needs?
First, I let them tell me what they think their needs are. Then, I adjust that list based off of the fluctuation rate of progress made by the student.
How do you adapt your tutoring to the student's needs?
I believe the core point is that student's learn to apply what they do know to things they want to know. The method used to achieve this skill can easily be modified for different personalities.
What types of materials do you typically use during a tutoring session?
I prefer paper, pencil, the textbook, and the Internet as a far away reference.