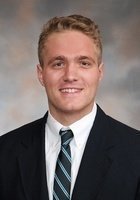 Max
Certified Tutor
I am a recent University of Utah graduate with a B.S. in Exercise Sports Science and a minor in chemistry. I am currently taking a year off between hopefully matriculating into medical school fall of 2016. I have done extensive coursework in biology, physics, chemistry, biochemistry, trigonometry, calculus, psychology, sociology, and lab sciences. I have also recently taken the new MCAT and believe that I can teach my tools for success to any pre-student willing to learn them. I have been a teaching assistant for both General Chemistry I and II for two semesters each and have taught CPR, AED, First Aid to Salt Lake City Citizens. I have always enjoyed teaching, specifically being able to teach one-on-one. Connecting with students, making them feel comfortable to express concerns, and then being able to pinpoint and fix the issue that is stopping them from achieving academic excellence makes tutoring extremely rewarding.
Education & Certification
Undergraduate Degree: University of Utah - Bachelors, Exercise and Sports Science
Test Scores
MCAT: 515
AP Chemistry: 4
MCAT Physical Sciences: 130
What is your teaching philosophy?
Focusing on conceptually learning and critical thinking is the key to being able to take your knowledge and apply it out in the world of academia.
What might you do in a typical first session with a student?
First, look at past performances in relevant subject areas to evaluate strengths and weaknesses. Then, ask the student what they feel they need to reach their goals and create a lesson plan that fits their needs and abilities. My sessions will include instructional parts and the application of topics to problem solving to make sure we are developing knowledge that can work through those tricky problems.
How would you help a student stay motivated?
By recognizing progress and breakthroughs. As a tutor, part of my job is to point out a student's problem areas, but an even bigger part of my job is to nurture and utilize their strengths. By building confidence in my student's abilities, I can allow them to be willing and ready to take on the next challenge ahead. I like my tutoring sessions to be fun, interactive, and enthusiastic.
If a student has difficulty learning a skill or concept, what would you do?
Take a step back, see where I lost my student in the learning process, and fix their specific problem. A lot of times, I find a student gets confused on one tiny detail and then naturally can't move forward in that specific area. If the issue is still troublesome, I like to bring in outside ideas and topics to help relate the problem to something more readily understood.
How do you help students who are struggling with reading comprehension?
This is a problem that I have personally struggled with. The way I worked through it was making complex stories into easy ideas. By not trying to completely comprehend a complex passage all at once and instead synthesizing one-sentence summaries of each paragraph, my students will be able to comprehend any passage given to them. This is a skill that takes tons and tons of practice, so I will happily provide materials to practice with.
What strategies have you found to be most successful when you start to work with a student?
I believe getting to know my student, personally and academically, is a huge help in making progress. Finding their learning tendencies, strengths, and what motivates them is how I can make lesson plans that are tailored to their learning style.
What techniques would you use to be sure that a student understands the material?
I would take that concept and find a tough problem for the student to apply it to. Being able to explain a concept is one thing but then being able to explain how you applied that same concept to a problem is when you have truly grasped its meaning. Also, asking the student to apply it to a slightly different subject is a good technique. Science always can come full circle, so being able to connect concepts between subjects shows a full understanding of the topics.
How do you evaluate a student's needs?
I think the best way to evaluate a student's needs is by starting from the beginning and making sure they have the basics down. Then moving forward from there, I believe I am able to see where the learning process went wrong. I also like to do problems with my students and hear their thought processes, where I can really see how we can improve their problem-solving skills.
What types of materials do you typically use during a tutoring session?
I love visual aids; pictures, diagrams, and flow charts are things that I have personally benefited from when learning. I really think a lot of students just need to see it, and they'll know it. I also really like to use problems in the learning process. I believe this helps build knowledge in a way that makes it easy to perform well on exams.
How can you help a student become an independent learner?
I really like to emphasize self-evaluation when tutoring. When students are having trouble, most get frustrated, which only worsens the problem. I try to teach the benefits of taking a step back and walking through your own thinking process to work through problems. The best part about that strategy is that it can work in any subject area and is applicable to any level of education.
How would you help a student get excited/engaged with a subject that they are struggling in?
By showing them how easily they can turn around their performance in that subject. Currently, professors seems to make most subjects out to be vastly more complicated than they are. With one-on-one tutoring, I can show students how they can be at the top of the class, and how to succeed in the future.
How do you build a student's confidence in a subject?
I like to use the Socratic method when trying to get a student through a mental hurdle. By continually asking them basic questions and building the difficulty slowly, I can show students how they truly can understand these subjects- just with a different way of thinking.