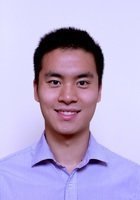 Eric
Certified Tutor
I am a senior at New York University studying Finance, Statistics, and Computer Science. I have been tutoring for almost five years at the high school and test prep level and I love the mentoring experience! I believe whole-heartedly in a multi-faceted approach to learning and strive for depth of practice as well as breadth of knowledge. I am well trained in all of the subjects I have listed on my profile, whether through tutoring experience or academic and professional exploration. High school sciences have been a strength of mine since taking the AP exams in high school. Through tutoring, I have kept up to date with changes in the exam and curriculum. My proudest moment was when one of my Honors Chemistry students achieved a 13 point increase in grading from the first quarter of the school year - from 83 to 96. Through my professional and undergraduate education, I am intensely familiar with finance, accounting, comp science, and economics.
Education & Certification
Undergraduate Degree: New York University - Current Undergrad, Finance and Statistics
Test Scores
SAT Composite (1600 scale): 1560
SAT Math: 770
SAT Verbal: 740
SAT Writing: 800
AP Chemistry: 5
AP Calculus BC: 5
AP Statistics: 5
AP Physics B: 5
AP English Literature: 5
AP English Language: 5
AP US History: 5
SAT Mathematics Level 2: 800
SAT Subject Test in Biology E/M: 770
SAT Subject Test in Chemistry: 800
SAT Subject Test in U.S. History: 750
AP Macroeconomics: 5
AP Microeconomics: 5
Hobbies
Sports, Video games, Healthy Lifestyle, Skiing/Snowboarding, Skating
What is your teaching philosophy?
The tenets of my approach to tutoring are three: Planning, Patience, and Depth. I prepare my curriculum and practice problems after doing a thorough reading of the subject syllabus. I plan according to the timeline of test taking in order to best prepare my students. I believe that sometimes students take different approach to learning than others, and so emphasize patience in teaching new test taking strategies or concepts. Finally, I believe that my depth of knowledge as a tutor must be strong enough to support most if not all questions asked on the subject matter. I am not afraid to admit I'm wrong and use the technology and tools available to us though!
What might you do in a typical first session with a student?
I would get to know him and his background better, and plan with him a syllabus. I would then dive into a first lesson to gauge understanding.
How can you help a student become an independent learner?
To become an independent learner, I would introduce other disciplines and show the cross relevancy of a particular topic. Then I would encourage several attempts at problems before looking at the solution.
How would you help a student stay motivated?
To stay motivated, a tutor needs to maintain a positive attitude and high energy. The tutor should also encourage reflection after failure.
If a student has difficulty learning a skill or concept, what would you do?
If a student has difficulty, try as many different ways of explaining it as possible. Then, if I were teaching a science or computer class, I would do a practical lab to demonstrate the concept. If I were teaching economics or finance, I would use real-life current events as examples.
How do you help students who are struggling with reading comprehension?
I ask them to read short news passages about the real world, underline misunderstandings, and give a quick summary to me. Reading comprehension is largely practice.
What strategies have you found to be most successful when you start to work with a student?
The strategies I found most successful were careful planning and mutual understanding. It is important to be patient with a new student and evaluate his/her needs before diving in.