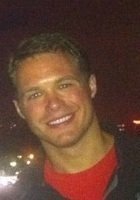 Christopher
Certified Tutor
I'm an engineering student at GA Tech and I'm tutoring because I love working with others to understand things that I know myself. And through teaching, I find that I understand things all the better. During my time off, I enjoy keeping healthy, reading, and watching various kinds of shows from documentaries to TV series to anime.
Test Scores
SAT Verbal: 700
Hobbies
Reading, writing, drawing, engineering, physics, anime, manga, working out
Tutoring Subjects
AP US Government
AP US History
College English
College Physics
Conversational French
French 1
High School English
High School Physics
Mechanical Engineering
Physical Science
What is your teaching philosophy?
Working patiently with people until they make progress in understanding the subject. Understanding things can be really hard and every person learns differently, so honest feedback from my students is vital in recreating my teaching strategies.
What might you do in a typical first session with a student?
I would exchange descriptions so we know each other a little. Then I would ask what they find difficult and what they find easy in order to get a grip on what I should take more time on. I would also make it a point to convey that if they have any struggle with my lesson, tell me so I can explain it differently.
How can you help a student become an independent learner?
Practicing different methods of studying besides the ordinary reviewing of problems and assigned homework. That has helped me to become more enthusiastic about studying. Students would be allowed to text, call, and email me questions, even while we aren't together, in hopes that the idea of independent study doesn't seem like such an impossible task.
How would you help a student stay motivated?
Keeping the atmosphere light so the work doesn't feel as draining on the student. Encouraging them by conveying my confidence in their abilities because having support makes all the difference. Rewarding them for studying on their own time.
If a student has difficulty learning a skill or concept, what would you do?
Research new ways of conveying the information; seek advice from more experienced tutors and teachers; work with the student to identify what the problem is in the most specific sense.
How do you help students who are struggling with reading comprehension?
Read the passage with them and guide them in the analysis. Read it to them and have them concentrate on the passage as a whole instead of specific parts. If we are analyzing something longer, reading the introductory sentence/paragraph and then the conclusion helps one understand the idea it's trying to convey.
What strategies have you found to be most successful when you start to work with a student?
Complete patience and the understanding that they want to comprehend the material. It is more frustrating for them, and they can often feel like they are dumb for missing the point. It's up to me to keep their confidence high and dispel negativity.
How would you help a student get excited/engaged with a subject that they are struggling in?
My favorite way is to find real world examples or studies where the subject is in play. Often while learning, the information seems to be pointless. However, in reality, these things have huge implications. Those implications make you realize the possibilities in life that comprehension offers.
What techniques would you use to be sure that a student understands the material?
Sample questions that relate to the subject. Math - doing problems on their own, explaining the steps they took, writing their own problems. Reading - comprehension questions and summary of story. French - word review, conversations, comprehension questions, and translations
How do you build a student's confidence in a subject?
Always make them aware that everyone has weak points, so finding something difficult is completely normal and happens to everyone. If they excel, I convey my pride in their accomplishment and attempt to challenge them with slightly harder material. I keep track of progress so they can know how well they are doing on their own journey in understanding.
How do you evaluate a student's needs?
Talking with the student; keeping track of their records to see first hand what they have trouble with over stretches of time.
How do you adapt your tutoring to the student's needs?
Getting to know them will be a part of each meeting. Talking openly and honestly but avoiding simple negativity. Research new tutoring techniques and talk with other tutors regarding their own techniques when I'm having trouble
What types of materials do you typically use during a tutoring session?
Pre-prepared problems, textbook, flashcards, music can make it more fun, and all material provided by their learning center, if they have one.