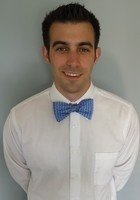 JJ
Certified Tutor
I received my B.S. in Biology from Villanova University in May of 2012. Throughout my four years of undergraduate college, I tutored hundreds of students in a variety of subjects. A month after my graduation from Villanova, I was on a plane to California to start work on my Master's degree. I studied Entomology at the University of California, Davis and conducted a field research project that investigated how pesticides affect honey bee behavior. I also worked as a teaching assistant at Davis and co-created and taught a course about current issues related to beekeeping and bee conservation.

I finished my M.S.in Entomology at the beginning of 2015. I have a sincere love of learning and find great joy in helping others achieve their academic goals. I believe a teacher must be patient with their students and truly understand what issues they face in order to effectively communicate with them. I strive to cultivate a positive teaching environment that inspires my students with the same passion for learning that I have.

I have recently focused on tutoring standardized tests including the GRE, SAT and ACT. I most enjoy tutoring the GRE because of the complexity of its questions. I love teaching students how to see through the tests tricks and pitfalls, while also analyzing the subtle clues provided by the questions. Other subjects that I have experience tutoring include math up to calculus, biology, statistics, essay composition, chemistry and physics.
Test Scores
SAT Math: 720
GRE: 331
GRE Quantitative: 167
GRE Verbal: 164
Hobbies
Science, Cooking, Yoga, Gardening, Aquariums, Video Games, Soccer
What is your teaching philosophy?
I believe that every person learns differently and requires a unique style of instruction to thrive academically. As a teacher, I keep this in mind when developing a study plan for each student, and adjust my style to fit their particular needs. The tutoring process is a two way street; both my students and I learn through constant communication and a mutual respect for each other.
What might you do in a typical first session with a student?
First sessions are a critical component of a successful tutoring relationship. The first session sets a tone for future sessions, and often informs me more than the student. I learn much from this single meeting: what style this student learns best with, how hard I need to push them to achieve, what level of mastery they already have with the subject, and how our personalities interact. Starting off with a productive, informative session is necessary to a fledgling tutor/student relationship.
How can you help a student become an independent learner?
Teaching students general study skills and techniques helps them become more independent learners. Additionally, students become driven to learn on their own once they achieve academic goals that they set for themselves.
How would you help a student stay motivated?
Seeing tangible results when learning new material is a key factor in keeping students motivated. Increased exam scores, the ability to explain new concepts, or simply being able to complete homework problems all contribute to a student's sense of achievement and motivate them to succeed.
If a student has difficulty learning a skill or concept, what would you do?
Everyone learns in different ways, so being able to adapt to the unique learning style of any student is key. If one explanation of a concept does not stick with my client, I would approach it from a different angle, or use alternate methods to articulate my point.
How do you help students who are struggling with reading comprehension?
Struggles with reading comprehension often stem from not being actively engaged with the material. I encourage students to use a variety of skills and behaviors to make reading a more active experience which maintains their attention.
What strategies have you found to be most successful when you start to work with a student?
When I first work with a student, I like to get to know their learning style so I can adjust my tutoring to meet their specific needs.
How would you help a student get excited/engaged with a subject that they are struggling in?
To encourage engagement with material that students find uninteresting, I would try to give them real life examples of when the material is useful.
What techniques would you use to be sure that a student understands the material?
Asking students follow up questions to make them put material into their own words is the most effective way to demonstrate their understanding.
How do you build a student's confidence in a subject?
Small measures of improvement or success including homework, understanding individual concepts or improved exam performance should be praised and contribute to a student's confidence.
How do you evaluate a student's needs?
Examining a student's performance on assignments that they are graded on often provides valuable information regarding their needs. Additionally, a specific student's needs are usually clear to me after a single session.
How do you adapt your tutoring to the student's needs?
I frequently adjust my tutoring to meet students' needs. I often have to explain concepts in different ways for a specific student. Also, each student responds best to a certain demeanor and I change my attitude to accomplish this. Some students need a more disciplined instructor, while others require more warmth and understanding.
What types of materials do you typically use during a tutoring session?
For academic subjects, I often rely on what materials the student already has. For standardized testing, I use a combination of online material and physical books.