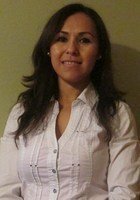 Yanira
Certified Tutor
I am a graduate of Ashford University. I received my Master of Arts in Teaching and Learning with Technology. I also graduated from the University of El Salvador with a Bachelor of Arts in English with a specialization in Teaching. I have taught ESL in a private school and at the English Extension Program of a university. I have tutored Language Arts, Math and Spanish. I enjoy teaching a second language and I always encourage my students to learn new languages since it opens worldwide opportunities to succeed in life. In my spare time, I love reading and being outdoors appreciating the beauty of nature. I also have a passion for arts & crafts and I enjoy spending time with my family.
Education & Certification
Undergraduate Degree: University of El Salvador - Bachelor in Arts, English
Graduate Degree: Ashford University - Master of Arts, Education & Technology
Hobbies
Watching movies and basketball games. Reading, working on arts & crafts, nature and going to parks or to the beach.