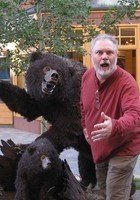 Brian
Certified Tutor
I have been a teacher all my life, it seems. When I was in college, I tutored disadvantaged students in the community. As an Army officer, I was responsible for showing soldiers how to most efficiently perform their duties in the service of their country. As a businessman, I trained my employees how to best serve our customers. As a teacher for the past twenty years, I have taught math, drama, and English in grades 7-12.

I have taught in very rich and successful schools; I have taught at schools in poverty where every student received free meals.

The thing is, I love to learn. The more I learn, the more I can teach. If your child is having a bear of a time at school, I can help. You see, for the same reason I love to learn, I also love to teach.
Test Scores
SAT Composite (1600 scale): 1420
SAT Math: 720
SAT Verbal: 700
Hobbies
writing, music, photography
Tutoring Subjects
College English
Comparative Literature
Elementary School Math
High School English