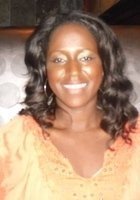 Muriel
Certified Tutor
I graduated from McGill University (Canada's Harvard) earning a Bachelor's in Spanish and Italian Literature. It was through practice, determination and traveling that I achieved my goal to become multilingual. I had the privilege to be born and raised in a bilingual country, Canada. I did my elementary and secondary schooling in French. In college and in university I decided to study Spanish and Italian extensively in order to work as a translator and interpreter. I have kept all of my school books, tests, exams, homework and exercise sheets since the 11th grade. I have a lot of experience teaching languages to children and teenagers. I strongly believe that the student must surpass his teacher. Therefore, today, I am proud to say that the eleven-year-old Vietnamese girl and boy that I tutored for 5 years are both attending Medical school. In addition, I am proud to say that I speak, write and read in French, English, Spanish, Haitian Creole and Italian proficiently. Whenever I tell people that I speak French, they often assume that it is not my mother tongue language because I have no accent in English. I am always proud to say that I did not know how to speak English until I was 16 years of age. Learning a language is like cracking a secret code. Once you decode it, the treasure is yours.
Education & Certification
Undergraduate Degree: McGill University - Bachelor in Arts, Spanish and Italian Literature
Hobbies
Chatting online to maintain language proficiency. Reading, writing, translating, interpreting and exercising.